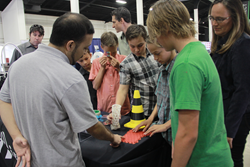 Design and build, or significantly repurpose, a product that will solve a problem, need or want.
Orange, CA (PRWEB) May 01, 2017
Ever see a five-pronged fork that makes eating spaghetti easier or a purse with a built-in light? How about an alarm clock that knows if you are still laying in bed and keeps going off until you get up? These are just a few of the award-winning entries from last year's ocMaker Challenge. One can only imagine what this year's competitors have in store.
ocMaker Challenge 2017 is the largest student maker challenge in California. The free, family-friendly event is open to the public and will be held May 12-13 at the Hutton Sports Center at Chapman University. No ordinary science fair, the ocMaker Challenge is an integrated STEM project that incorporates elements of art and design by challenging middle school, high school, and college students to design and manufacture an innovative invention with the use of a 3D printer. The prompt presented to students is, "Design and build, or significantly repurpose, a product that will solve a problem, need or want."
Organized and supported by the Orange County Department of Education's Career Technical Education Partnership (CTEp), Vital Link and Career Technical Education of Orange County, the ocMaker Challenge is a unique, county-wide STEM competition that is unlike any other in the world.
"Unlike us, these students are not yet jaded by everyday limitations, such as manufacturing constraints or even the idea of gravity," pointed out CEO Eva Wolf of Airwolf 3D, a local 3D printer manufacturer that has partnered closely with the ocMaker Challenge since its beginning in 2013. "[Students] simply dream up an invention and make it. Every year I see at least a few devices that are on a par with designs from some of our professional engineering customers."
The ocMaker Challenge has grown exponentially since its start in 2013. With three ocMaker Challenges under her belt, and the fourth annual installment currently underway, Jillian Johnson-Sharp, the administrator of CTEp, is the powerhouse behind the ocMaker Challenge and has grown the event from only 45 entries in the first year to upwards of 200 in the current 2016-2017 season.
"The purpose of the ocMaker Challenge is to use 'Making' as the vehicle for delivering STEM/STEAM education to all students," explained Johnson-Sharp. "The Challenge promotes 21st century skills, innovation and creativity, combined with new technologies, and provides a way for these to be delivered in an exciting and engaging way across all disciplines."
A 3D printer manufacturer based locally in Costa Mesa, CA, Airwolf 3D is the primary industry sponsor of prize money for ocMaker Challenge winners and also conducts 3D printer training for teachers new to the event.
"Our goal is to educate the educators," explained Wolf. "If a teacher is competing in the ocMaker Challenge for the first time, chances are it's also their first time working with 3D printers. The ocMaker Challenge season starts in the Fall and ends in May. That does not give teachers much time to learn a new technology before having to delve in and teach it to their students. It's vitally important that they receive highly effective and engaging training on our printers, so they are empowered to pass the knowledge and skills on to our children."
And that knowledge and skill set is evident in students' inventions. From a portable radiation detector to a possible cure for Type I diabetes, the entries are innovative and inspiring. Most importantly, whether or not they win, all students who participate are enriched by the educational experience of successfully completing the engineering design process.
Event Details
What: The ocMaker Challenge 2017
When:
Friday, May 12, 9:00 AM – 4:00 PM
Saturday, May 13 9:00 AM -2:00 PM (Awards ceremony from 1:00 – 2:00 PM)
Where:
Hutton Sports Center at Chapman University
1 University Drive, Orange, CA 92866
Event Cost: Free
Parking is available at the Barrera parking structure off of Sycamore Ave. Locate a payment kiosk to print a parking pass.
About Airwolf 3D
Airwolf 3D is committed to designing, manufacturing and selling 3D printers, 3D printing materials, 3D printing software, and 3D printing peripherals that are fast, affordable, durable and easy to use. Airwolf 3D has authorized dealers in more than 20 countries around the world. Airwolf 3D printers are delivered fully assembled and ready to print. All Airwolf 3D printers are made in America and manufactured in the company's 12,000 sq. ft. facility in Costa Mesa, California. Airwolf 3D printers can be found in Fortune 500 companies, engineering firms, government agencies and schools worldwide. For more information on the best 3D printer in its class, please contact Airwolf 3D at (949) 478-2933 or email info(at)airwolf3d(dot)com. Free demonstrations are available at the company's showroom located at 130 McCormick, Suite 105, Costa Mesa, CA 92626.