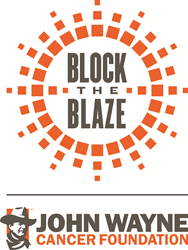 Newport Beach, CA (PRWEB) May 01, 2017
The John Wayne Cancer Foundation (JWCF) was founded to bring courage, strength, and grit to the fight against cancer through research, education, awareness, and support. Block the Blaze, the Foundation's youth skin cancer program aimed at educating youth about prevention and self-screening, is honoring that mission by sharing a powerful story of perseverance, and self-advocacy in recognition of National Skin Cancer Awareness Month this May.
Kennedy participated in the junior lifeguard program at El Segundo Beach, California, and after hearing a Block the Blaze presentation in 2015, she noticed a pink mole on her forearm and went to have it checked out. While her doctor was not concerned with the mole, Kennedy knew better. During the Block the Blaze presentation, she learned that melanoma can be pink or blue. So, she opted to have the spot surgically removed. When it was biopsied, it was confirmed that the spot was, in fact, melanoma. After being treated at the John Wayne Cancer Institute, Kennedy is now cancer free and is helping to spread the message of hope and the importance of self-advocacy.
"Thanks to the lessons I learned from Block the Blaze and the amazing doctors at the John Wayne Cancer Institute, I am cancer free," said Kennedy. "By encouraging me to be my own greatest health advocate and arming me with the knowledge I needed to self-screen, this program helped save my life. I hope that my story encourages other kids to stand up to cancer.
Established in California, Block the Blaze educates youth about sun safety and skin cancer with an emphasis on prevention and self-screening. 3.6 million Americans are diagnosed with skin cancer annually, and in California, one in three people will be diagnosed with skin cancer in their lifetime. But, just as staggering, close to 95% of skin cancers are curable if caught early and treated quickly. Programs like Block the Blaze can be an integral part of early detection as they provide youth with the knowledge they need to fight back against this disease. Block the Blaze is currently active in 12 states across the U.S. and has educated over 240,000 youth to date.
To learn more about John Wayne Cancer Foundation and its Block the Blaze campaign, visit http://www.johnwayne.org.
###
About John Wayne Cancer Foundation
Founded in 1985, the John Wayne Cancer Foundation was created in honor of John Wayne after his family promised to use his name to continue his fight against cancer. The John Wayne Cancer Foundation's mission is to bring courage, strength and grit to the fight against cancer. Fight cancer with GRIT at http://www.johnwayne.org.