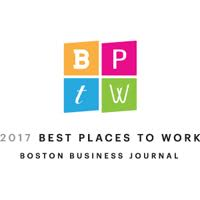 "It has been fun creating an environment that does just that. It is very rewarding to see smiling people everyday who love what they do, where they work, and the people they work with."
Boston, MA (PRWEB) May 02, 2017
The Boston Business Journal has named MaidPro one of the 2017 Best Places to Work in Massachusetts. This is the ninth year MaidPro has been recognized by the Boston Business Journal for its remarkable dedication to employee prosperity and happiness.
The 80 honorees were divided among five different categories ranging from extra small (20–49 employees) to extra large (1,000+ employees), MaidPro was ranked in the small category (50–99 employees) and selections were based on survey responses provided by employees. The Boston Business Journal will honor MaidPro and count down each category's top ranked places to work during its annual Best Places to Work event on Thursday, June 22 at Symphony Hall in Boston.
"The best way to attract and retain talented, diligent, loyal employees is to create a workplace culture that is supportive and meets all their needs," said MaidPro's CEO Mark Kushinsky. "It has been fun creating an environment that does just that. It is very rewarding to see smiling people everyday who love what they do, where they work, and the people they work with. We're honored to be recognized by the Boston Business Journal and hope to inspire other companies along the way."
Carolyn M. Jones, Boston Business Journal Market President and Publisher, stated, "This year well over 300 companies submitted surveys and once again we are extremely excited to be able to recognize these employers that clearly value their employees and go the extra mile to create great workplaces."
Earlier this year, MaidPro was also named to Entrepreneur's National Top Company Cultures list. In 2016, along with Boston Business Journal's Best Places to Work, MaidPro was a Healthiest Employer and one of the Top Places to Work by The Boston Globe.
To get a free estimate for housecleaning services from MaidPro please visit http://www.maidpro.com.
ABOUT MAIDPRO
MaidPro is a Boston-based franchisor of house cleaning services with over 226 locations in 38 states, the District of Columbia, and Canada. The company, which began franchising in 1997, takes pride in its strong owner community, cutting-edge technology, and creative marketing. It has been honored with the Franchise Business Review's Four-Star Rating and Franchise 50 awards every year from 2006 to 2016 for owner satisfaction. MaidPro was named one of the Top 50 Franchises for Minorities by USA Today's Franchising Today. MaidPro is also a proud member of the International Franchise Association, Canadian Franchise Association, and the New England Franchise Association. The company can be found online at http://www.maidprofranchise.com.