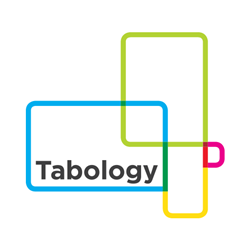 At Tabology we explore, create and build technology that helps our customers better serve theirs.
(PRWEB UK) 8 May 2017
Six years since the launch of Robot Pub Group's innovative tablet based tech, the company have now developed a suite of interconnected products, with the common purpose of helping pubs, bars & restaurants across the globe serve their customers better. The company felt it was time their brand better reflected their purpose and global presence whilst simplifying their offering to customers.
Managing Director, Phil Neale said: "We are excited to launch our rebrand as Tabology, which we believe better reflects what we stand for as a company and our offering.
Progressive and entrepreneurial hospitality people are looking for technology that will give their customers the best possible experience. Whether that's our epos automating bookkeeping, leaving them to focus on great service, or iPads or beer taps on customer tables, cutting out time wasted at the bar.
At Tabology we explore, create and build technology that helps our customers better serve theirs. Each of our products has a new name too, that better reflects where it can fit into your business."
BarTab is the iPad-based EPOS system that has been transforming the way pubs and bars do business. By linking to your accounts and staff scheduling systems, BarTab can give you a more accurate view of your business than ever before. You'll also save countless hours on admin, so you can spend more time delivering great customer service.
TableTab puts your customers in control to order what they want, when they want, without queuing at the bar. TableTab taps perfectly into the needs of the on demand generation, and customers order more and stay longer when there are fewer barriers to service.
PourTab gets your customers pulling the pints. Whether as an add on to TableTab, or as a showcase wall of beers, PourTab is sure to be a headline grabber.
MemberTab puts quick, simple, and convenient service at your customers fingertips, while helping you better understand their habits and lifestyles.
All of Tabology's products integrate seamlessly with each other, so you can pick and choose what works for your style of venue. And when they find great products created by other companies, they can integrate with them too.
Whichever Tabology products you choose, managing them is easy with TabHub. You can add products, view reports and more, on any device you have to hand.
Tabology are also offering a free trial of BarTab so you can experience first hand how easily it can streamline your business, and help you serve your customers better. Learn more at http://www.tabology.com,