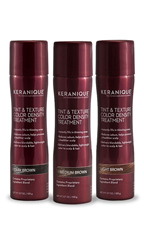 Keranique is proud to be recognized by CEW members and professionals, and will continue to innovate in women's hair care.
New York, New York (PRWEB) May 10, 2017
Keranique, the Women's Hair Growth Experts™, is pleased to announce that the Keranique Tint & Texture Color Density Treatment has been selected as a finalist in CEW's Beauty Insider Awards for 2017.
CEW, a global community of 8,000 influencers in the beauty industry, recognizes the most innovative beauty products every year. Winners in each category are chosen amongst the finalists by CEW's U.S. members, which includes over 6,000 beauty industry professionals.
As a finalist in the category of Hair Coloring Product, Keranique's Tint & Texture Color Density Treatment is being recognized for innovation in creating a formula that helps fill in areas of thinning hair with color, while reducing sebum production that can diminish natural volume.
The Keranique Tint & Texture Color Density Treatment delivers temporary, lightweight, blendable color without leaving hair brittle, dry, or unhealthy. Micro-milled pigments deliver natural, dimensional depth without fibers for a touchable texture, pliable volume, and lightweight lift.
"We didn't want to lose the femininity and beauty aspect of the line. We address a serious problem but don't want the beauty to get lost," explains Andrew Surwilo, cofounder and chief executive officer of Atlantic Coast Brands, which owns Keranique. The Keranique product line includes products designed to address women's hair loss, including fine or thinning hair. Other products in the line include the Scalp Stimulating Shampoo, Volumizing Keratin Conditioner formulas, and the Keranique Hair Regrowth Treatment, along with a variety of styling and preventative treatment products for women with fine or thinning hair.
Keranique is a finalist among six other innovative hair coloring products, none of which have the added value of volumizing thinning hair - a benefit that is integral to Keranique's products. Past winners in this category include products from L'Oreal Paris, Rita Hazan, and Oribe.
The winners will be announced on May 12th at the 2017 Beauty Insiders Awards Luncheon at the New York Hilton Midtown.
About the Keranique Hair Regrowth System:
Trusted by over 1,000,000 women, the Keranique Hair Regrowth System uses an FDA approved ingredient that is clinically proven to regrow hair. With a wide variety of products offered, Keranique can fill many hair care needs including shampoo and conditioner, supplements, an overnight repair serum, and even styling products such as mousse. Keranique's products are formulated to promote the hair's natural volume without the use of many synthetic ingredients. For more information about how Keranique's hair growth experts have been able to improve look and texture of many women's hair, visit https://keranique.com/.
Contact Information:
KIMBERLY BLAKLA
201-942-3569
KBLAKLA(at)ATLANTICCOASTBRANDS(dot)COM