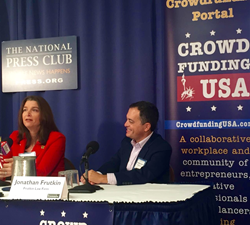 "The change in the administration and new members of the Securities and Exchange Commission make this area ripe for change, I am looking forward to discussing these topics during my panel on May 4."
Washington D.C. (PRWEB) May 02, 2017
Radix Law's principal attorney, Jonathan Frutkin, will be a featured speaker at the "Fourth Annual Conference and Workshop for Crowdfunding USA" scheduled for May 4 to 5 at the National Press Club in Washington D.C. Frutkin is the author of the book Equity Crowdfunding: Transforming Customers into Loyal Owners.
The two-day conference consists of panels and discussions which will focus on a variety of crowdfunding issues including the system approved in May 2016 which allows issuers to raise up to $1 million via equity crowdfunding. Other workshops include Real Estate Crowdfunding, Pros and Cons of Internet finance and lending, Title II, Regulation A+ Mini IPO and more.
In addition to his work in crowdfunding, Jonathan Frutkin has a long history as a business executive and owner. He has owned a website design business, a software company, a real estate development company and was the developer for a national ice cream chain. As the founder of Radix Law (formerly The Frutkin Law Firm), he worked to put together the top legal talent available to assist business clients – growing the firm to more than 10 attorneys within a few short years. His practice focus is on providing general counsel, including capital formation, mergers and acquisitions, litigation strategy and intellectual property. He has also appeared frequently in the media, including in international publications like The Economist, Kiplinger Personal Finance and The Washington Post. He is a frequent media commentator on television, on the radio and in print. Just recently, Frutkin was listed as one of Arizona's Top 100 Lawyers of 2017.
"Business leaders can no longer ignore the power of crowdfunding to raise substantial capital, but rules and regulations are constantly changing and it's important for those leaders to stay on top of these developments," said Jonathan Frutkin, principal attorney at Radix Law. The change in the administration and new members of the Securities and Exchange Commission make this area ripe for change, I am looking forward to discussing these topics during my panel on May 4."
About Radix
Radix Law, formerly The Frutkin Law Firm, was founded in 2008 by attorney Jonathan Frutkin with the goal of providing exceptional legal representation to clients throughout Arizona in business and corporate law and related areas. Radix helps businesses, individuals, and families in Phoenix and throughout Arizona with their corporate and business law, bankruptcy, taxation, asset protection, wills, trusts, and estates, and litigation needs. The firm is located at the Kierland Commons in Scottsdale. For more information, visit radixlaw.com.