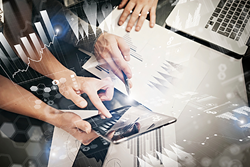 "We are excited about transforming the wholesale experience and bringing it into the future." Amy Mahar, SVP-Director of Third-Party Originations
(PRWEB) April 30, 2017
Nationwide mortgage lender Cardinal Financial Company, Limited Partnership recently launched its wholesale division and proprietary technology. Cardinal Financial's end-to-end digital solution significantly streamlines the wholesale loan process. While most systems only address the front-end user experience, Cardinal Financial's technology has radically improved the loan manufacturing process from point of sale to close. The company's vision to lead and disrupt the mortgage industry by modernizing the way home loans are obtained is furthered by this significant initiative.
Cardinal Financial Wholesale, the company's new Third-Party Origination (TPO) channel, delivers unmatched levels of execution by leveraging its proprietary technology, Octane. Octane is Cardinal Financial's Loan Origination System that reduces friction, increases certainty, and automates many components of the process that other lenders require entire departments to fulfill.
Powered by Octane, Cardinal Financial can measure turn times in minutes, not days, and will deliver an experience of unrivaled service, price, and execution to uphold the fundamental importance of the broker in homeownership.
"The prevailing strategy executed by most wholesale lenders is 'this is how we've built the process' and 'this is the way we expect you to do things.' But in those types of environments, the needs of the broker and their ecosystem are rarely considered. Cardinal Financial Wholesale is radically different," said Amy Mahar, SVP-Director of Third-Party Originations.
"Too many wholesale lenders are operating from stagnant perspectives, lacking strategy for the future, and use archaic processes bolted onto inadequate technology. It's time we evolved. We are excited about transforming the wholesale experience and bringing it into the future," Mahar said.
Mahar joined Cardinal Financial in July 2016 and is nationally recognized in the mortgage industry with over 25 years of experience in building successful wholesale platforms.
"We believe that the broker's reputation lies largely with the wholesale partner and we take that responsibility seriously. We have developed a platform that is designed to make the broker processor's life easier and create a better, faster experience through automation. Octane creates real efficiencies in the process and removes typical obstacles, allowing the broker to focus on relationship building and origination growth," said Nick Florez, President of Cardinal Financial.
About Cardinal Financial:
Headquartered in Charlotte, North Carolina, Cardinal Financial Company, Limited Partnership is a nationwide direct mortgage lender that provides modernized home financing solutions. The company's proprietary technology and unparalleled expertise converge to redefine the standard and facilitate a lending experience of unrivaled precision and speed. Cardinal Financial is approved to sell direct to Fannie Mae, Freddie Mac, and Ginnie Mae, is authorized to originate FHA, VA, and USDA loans, and has routinely funded billions of dollars in loans every year. Cardinal Financial's commitment to transparency, simplicity, and value makes the complicated process of obtaining a home loan simpler. For more information about Cardinal Financial, visit cardinalfinancial.com, or find them on Facebook, Twitter, LinkedIn, Instagram, and YouTube. To learn more about Cardinal Financial Wholesale, visit cardinalfinancialwholesale.com or find them on Facebook, Twitter, and LinkedIn.
###