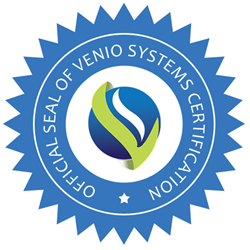 Washington, D.C. (PRWEB) May 01, 2017
Venio Systems, a global provider of a complete e-Discovery platform, today announced the availability of training and examinations for VenioOne Certified Administrator. The 2-day training and exam are available to current Venio Systems partners and clients but limited seats are available. Training and testing will be held on May 18 - 19, 2017 in Fairfax, Virginia.
The VenioOne Certified Administrator program is designed to provide a strong foundation to e-Discovery and litigation support users of the VenioOne Unified e-Discovery Platform. VenioOne brings together all e-Discovery needs from ingestion to production in one platform giving users the ability to:

Create and manage e-Discovery projects;
Ingest, filter and process data;
Manage, analyze and cull data;
Manage reviewers and review projects;
Engage in predictive coding.
The 3-hour examination at the end of the 2-day training is based on best practices illustrated in a variety of hands-on exercises throughout the workshop, and training is designed to evolve alongside the VenioOne ecosystem.
Individuals who earn a passing score on exams will receive an official certification as VenioOne Certified Administrator. Additional certification categories will be announced as the program expands.
Testing is administered on site at the end of day two. Once a candidate has passed a VenioOne certification exam, they will receive a certificate and an authorized registration number for their certification, which will be managed through a global online portal available to certification owners.
To register for the two-day workshop and exam, please visit http://veniosystems.com/VenioOne_Certified_Administrator_Workshop.php.
For more information about the program, and to participate, please visit http://veniosystems.com/VenioOne-Certification.php.
About Venio Systems
Venio Systems, based in Fairfax, Virginia, is a team of innovators and developers with 30 years of experience in providing an e-Discovery solutions. Venio Systems was created to address the industry's lack of unified e-Discovery systems. VenioOne, a unified e-Discovery platform, is designed to provide law firms, corporations and government entities with the ability to manage all phases of discovery -- processing, ECA, culling, document review, and production -- from a single tool. Venio Systems remains on the forefront of innovation to provide solutions any litigator can use. For more information, visit http://www.veniosystems.com.