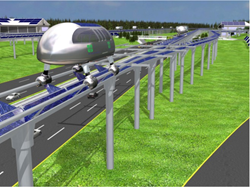 We have an amazing team of people from all walks of life and from all over the world. - Jim Jung CEO
Brighton, Michigan (PRWEB) May 01, 2017
The Interstate Traveler Company set a cornerstone for the future green economy in 2002 when they published their plans for an elevated magnetic levitation rail system that runs on solar and hydrogen power. The Hydrogen Super Highway (HSH) a first of its kind maglev rail system that is self-sustaining using solar powered hydrogen electrolysis, designed for automated mass production with a unique 3D suspension system that supports vehicles for public transit, for individual automobiles and standard ISO freight containers with an embedded hydrogen distribution pipeline system. The transports can be private, public and commercial transports such as medical triage units responding to emergencies, restaurants, plush lounges and starlight cruisers for cross country tours. The HSH will be installed by rail mounted cranes using large round steel stanchion tubes drilled into the ground as a foundation so it can be built just about anywhere without having to tear up the ground for an access road. The company states that this method will insure the HSH will have a near zero impact on the environment.
Designed originally as an upgrade to the U.S. Interstate Highway System increasing the capacity and safety of the highway tenfold while providing the hydrogen infrastructure required for the growing energy economy. The system is designed to provide direct pipeline access to hydrogen and other fuels to all the existing fueling stations along the highway. The HSH may completely avoid costly delays and challenges of eminent domain for new rights of way. Company officials also state that the HSH system can be built without any disruption to local businesses and because it is elevated it will be the safest and most versatile form of high speed transportation yet.
By 2004 the company received wide ranging support and international acknowledgement. While working to bring the HSH proposal to decision makers the 'Interstate Traveler Project' was honored with Unanimous Resolutions from the House and Senate of the State of Michigan in 2003, several forward looking Skilled Trade Unions proffered letters of support and sponsored radio interviews on WJR AM 760 News Talk Radio in Detroit. The HSH technology has also been recognized by a number of national and international journals and associations, highlighted by Discovery Channel in 2007 and the Founder of the company was the keynote speaker at the 2010 National Engineers Week at Western Michigan University. Company officials also showed us records of a large number of US DOD related energy conferences where they have hosted exhibits and provided panelists and speakers on the issues of bulk hydrogen infrastructure and energy security. The company is a registered federal contractor.
"We found out early that this would be a long process to get up and running" said Justin Sutton, the founder of the company, "but we made the commitment to put in the time to quietly build our global network, to see this through, and now we have a huge network and dozens of proposals for projects all over the world, large and small." According to Sutton, the company has reached out to decision makers around the world in government, banking, NGOs, international trade missions and conferences to host diplomats, trade association leaders and private businesses without ceasing since 2002. He went on to explain that the company has a large number of partners and many are actively engaged in teams working on projects around the world getting ready to handle growth after the first system is built.
Jim M. Jung of Lawrenceburg, Indiana is the Volunteer CEO of the company for several years and started with the company about ten years ago as the Director of Marketing, "We have an amazing team of people from all walks of life and from all over the world." Jung continued that the company's international board of directors, which is published on the company website, collectively manages dozens of proposals. "Yes, we have some investors, but our entire management team is an all-volunteer organization." Jung continued to explain that the company has an available franchise model that provides the rights to build, own and operate installations of the HSH in foreign countries, as well as provide a means to independently fund and manage construction of the HSH rail on existing railroad rights of way to accommodate the handling of shipping containers. "Port Authorities are a big deal for us and we can help," Jung said. "We realize the growth problems many ports face and the need to establish new large logistics centers where Ports can securely and quickly transport containers with digital 'just in time' and location accuracy." Referencing case studies Jung pointed out that large new logistics hubs are being built and many of the largest ports are landlocked and are exploring new ways to expand. "The problem is that existing roads in the area are often substandard and are quickly ruined by the increased truck traffic. By putting containers on the HSH rail system they are secure from potential at-grade collisions, defacement or getting broken into. Also our system is railbound so it cannot be derailed by accident or even by most earthquakes and our system is safe and secure from floods that would leave roads and traditional rail unpassable." Jung continued to explain how most vital 'Sea' Ports are at or near sea level or are on rivers that are prone to floods. "We think investment in an elevated system is the best method going forward." Jung concluded by saying "We now have key government and community leaders in Dearborn County Indiana in full support of our proposal and we have identified the location of our first quarter mile test system. We are excited to finally have a place to build and we will release more information on that soon, but I can say that we have engaged the support of America's most respected Hydrogen scientist, retired NASA Hydrogen program director Dr. Addison Bain. We are honored to have his full support."
During the interview with the Founder and the CEO we learned about several international trade missions and one Partner who is currently working for the company in Vietnam: US Army Col (Ret.) Andre Sauvageot. Sauvageot is the company Director for Vietnam, South East Asia and the District of Columbia and he joined the company in 2009 during the early negotiations to build the H2RSH system in Indonesia and proceeded to establish connections for the company with the government of Vietnam and other member States of the Association of South East Asian Nations (ASEAN) He also maintains active company engagement with the American Chamber of Commerce in Hanoi and the Vietnam Clean Energy Association.
Company officials declined any further details on their work overseas, yet they did state their current interest in joining the World Expo in Kazakhstan which is happening this summer. They talked about producing Hydrogen for the famous Baikonur Cosmodrome that provides active support for the International Space Station with plans for expanding commercial space development.
For the Interstate Traveler Company, the future of railbound transportation must be safe, secure and sustainable. The HSH is designed with a unique magnetic levitation suspension system that enables 3D position control at any speed with near zero vibration. They claim that their 3D position control system provides lateral g-force reduction technology by enabling the transport to shift its orientation in real-time and in 3D just enough so that the transports will experience almost zero shaking or shifting, suggesting that a person riding it will feel more safe and comfortable than travel by any other rail system.
As a public transportation system, the company says the HSH will enable vehicles of nearly any size, shape and purpose and will enable public, private and commercial ownership, effectively creating new lanes of commerce on the existing public access interstate highway systems, and on other applicable right of ways, that are faster, safer and much better for the environment.
Company officials also stated that with the recent growing interest in Hydrogen Infrastructure, the founder has created a profile on a leading crowd funding website and is exploring the potential of opening the door to a larger group of participants.
For more information, please contact:
info(at)interstatetraveler(dot)us