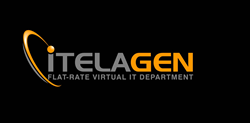 "Our new office in Sarasota extends our ability to offer a space our employees can enjoy and be proud of coming to work to every day", says John O'Keefe, CEO for ITelagen
Sarasota, FL (PRWEB) May 01, 2017
ITelagen, LLC, a leading provider of healthcare IT support, system administration and support services, including professional services, training, and hosting for various industries, announces the opening of new office space in Sarasota, Florida. Answering the strong demand for an expanded national footprint, the Sarasota, FL location will join existing offices in Jersey City, NJ and Charlotte, NC and become the company's new headquarters. Additionally, the relocation of company headquarters is one piece of the puzzle as ITelagen combats a 4.5% unemployment rate in the industry and faces the ever-complex challenge of hiring and retaining millennials.
The new office space is located at 5901 N Honore Avenue, Sarasota, FL 34243 and offers existing employees and new hires with 6,238 sq. ft. of space, totaling 32 workstations. The office space features configured floor plans to promote a higher level of productivity and collaboration amongst employees. Advanced on-site technologies ensure that employees are able to support our clients with minimal hiccups and that our clients are receiving efficient and effective support from very happy employees. Happy employees make for happy clients!
Building amenities also include a 6,000 sq. ft. Game Room/Arcade, a 2,000 sq. ft. Chef's Kitchen, 2,000 sq. ft. Café, 3,000 sq. ft. Gym w/Showers and Onsite Child Daycare. "Our new office in Sarasota extends our ability to offer a space our employees can enjoy and be proud of coming to work to every day", says John O'Keefe, CEO for ITelagen, " We have even encouraged and incentivized our existing staff nationwide to consider relocation to Sarasota. We really want to build this new office space into a premier headquarters for ITelagen!" The ITelagen vision is to return to the dot-com days where growth and hiring is spilling over the edges and every employee is excited to be working for a company that offers so much and provides so many opportunities.
ITelagen is a leading provider of IT services, EHR support and EHR cloud-based hosting for healthcare. ITelagen provides unlimited onsite and remote technical support for businesses, and monitors the activity of servers 24/7, to ensure the security of client applications. Its cloud-based system supports and manages patients' EHRs, assists with coding and billing records, medical and insurance claims, and categorizing insurance collections. ITelagen also provides disaster recovery and related services to update and back-up data.
About ITelagen:
ITelagen® redefines Healthcare IT for medical practices by providing electronic health records (EHR) as part of an entire back-office solution that includes unlimited onsite & remote technical support for all of your staff and secure hosting of your patient data. We are more than just desktop technicians, but a complete healthcare technology team made up of CIO's, engineers, and healthcare EHR experts. With ITelagen, you can have all the benefits of your very own fully-staffed IT Department, without the expense of an in-house staff. By combining certified EHR experts with IT and hosting, ITelagen becomes the single point of contact and "One-Stop Shop for EHR®", all for a flat monthly subscription fee. For more information, visit ITelagen on the Web at http://www.itelagen.com. Follow ITelagen on Twitter at https://twitter.com/ITELAGEN, Facebook at http://www.facebook.com/itelagen, or LinkedIn at http://www.linkedin.com/company/itelagen.
Contact:
Emile Clifford
ITelagen, LLC
201-239-8405
press(at)itelagen(dot)com