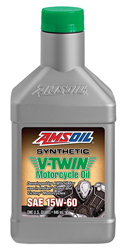 (PRWEB) May 01, 2017
AMSOIL has expanded its synthetic motorcycle oil line to include new AMSOIL 15W-60 Synthetic V-Twin Motorcycle Oil. Developed for use in Victory* motorcycles and the popular Indian* Scout*, this product presents a premium alternative to higher-priced manufacturer-branded oils.
AMSOIL 15W-60 Synthetic V-Twin Motorcycle Oil is engineered to protect critical components operating in the high-heat conditions commonly found in hard-working engines. Fortified with a premium anti-wear and oxidation-inhibitor additive package to reduce wear regardless of operating conditions, it remains thermally stable and extremely resistant to breakdown. AMSOIL Synthetic V-Twin Motorcycle Oil provides excellent wet-clutch performance to deliver quiet, smooth shifting and positive clutch engagement while preventing slippage and glazing.
AMSOIL 15W-60 Synthetic V-Twin Motorcycle Oil delivers outstanding protection against rust and corrosion due to storage, humidity and short drives. It is catalytic converter-compatible and meets the requirements for emissions-system protection in motorcycles with catalytic converters. Its shear-stable formulation resists thinning from mechanical activity, performing like a gear lube without the negative effects of extreme-pressure additives.
For more information on the full line of premium AMSOIL synthetic lubricants for motorcycles please visit http://www.amsoil.com/motorcycle.
AMSOIL has been the recognized leader in synthetic lubrication since 1972. For more information about AMSOIL synthetic motor oils and performance products contact your nearest AMSOIL distributor, or call AMSOIL at (715) 392-7101 or 1-800-777-8491. AMSOIL INC., AMSOIL Building, Superior, WI 54880.
News Contact:
Ed Newman
Advertising Manager
AMSOIL INC.
enewman(at)amsoil(dot)com
High-res image available upon request
*All trademarked names are the property of their respective owners and may be registered marks in some countries. No affiliation or endorsement claim, express or implied, is made by their use.