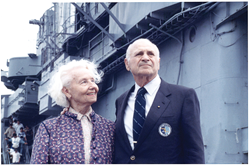 Rockville, MD (PRWEB) May 02, 2017
Zachary Fisher, founder of the Fisher House program, was recently named to the Philanthropy Hall of Fame in the Almanac of American Philanthropy. Zachary joins 56 other great American philanthropists whose names resonate throughout US history: Andrew Carnegie, George Washington, George Eastman, Henry Ford, John Rockefeller senior and junior, J.P Morgan, David Packard, Leland Stanford, and Benjamin Franklin, to name just a few.
The son of immigrants, Zachary Fisher started with little but America's promise of opportunity. At 16, he left school to enter the family trade as a bricklayer. Propelled by decades of hard work, Zachary, along with his brothers, Martin and Larry, eventually became one of the most prominent developers of the New York City skyline.
A construction knee injury prevented him from serving in WWII, but he always held the military in high regard. "There is a dignity and majesty in the efforts of all our Armed Forces, and it is well for us to remember the noble deeds of those who have worn the uniform," said Zachary some years before he died in 1999.
He lived by his words. Over the years, Zachary and his wife Elizabeth supported many and varied philanthropic causes, but the US military was never far from their thoughts. Spending millions of their own money, they spearheaded the effort to save the retired aircraft carrier Intrepid from the scrap heap and transform it into one of the world's largest sea, air and space museums. They personally provided cash gifts to families of fallen service members and scholarships to veterans and their families.
In 1990, Zachary began a remarkable partnership with Department of Defense, and later Department of Veterans Affairs, that blossomed from opening one Fisher House to 10 houses to 22 houses to 72 today. They were to be built like "a home away from home." He wanted families staying there to feel like his honored guests.
"Where there is military, there is a Fisher House. Where there is a Fisher House, there will always be caring, warmth, security, and compassion," Zachary said.
Today, Fisher House Foundation is led by Zachary's grandnephew Ken Fisher. Like his uncle, his passion to support our military and veterans runs deep.
"It is a source of great pride that I have been entrusted with the responsibility of overseeing Fisher House Foundation, an organization that has made such impact on military, veterans and their families' lives," said Ken Fisher, Chairman and CEO of Fisher House Foundation. "Twenty-seven years ago Zach was made aware of a need and he filled it, saying 'instead of sitting back and pointing out problems, let's try and be part of the solution.' I've never forgotten that--he taught me a lot about the real meaning of giving."
"Absent the passion and resources that our fellow countrymen devote to philanthropy," says the Almanac of American Philanthropy, "it's not only our nation that would be less thriving. Our individual days would be flatter, darker, uglier, more dangerous and less happy."
Zachary and Elizabeth's contributions have indeed made dark days a little better for hundreds of thousands of people.
"I look back and I know that I have made a difference in someone's life. I look forward and feel certain that we will be making meaningful changes in many lives for decades to come," Zachary said.
###
About Fisher House
Fisher House Foundation is best known for a network of comfort homes where military and veterans' families can stay at no cost while a loved one is receiving treatment. These homes are located at major military and VA medical centers nationwide, and in Europe, close to the medical center or hospital it serves. Fisher Houses have up to 21 suites, with private bedrooms and baths. Families share a common kitchen, laundry facilities, a warm dining room and an inviting living room. Fisher House Foundation ensures that there is never a lodging fee. Since inception, the program has saved military and veterans' families an estimated $360+ million in out of pocket costs for lodging and transportation.
Fisher House Foundation also operates the Hero Miles Program, using donated frequent flyer miles to bring family members to the bedside of injured service members as well as the Hotels for Heroes program using donated hotel points to allow family members to stay at hotels near medical centers without charge. The Foundation also manages a grant program that supports other military charities and scholarship funds for military children, spouses and children of fallen and disabled veterans. http://www.fisherhouse.org