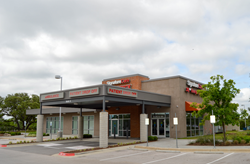 Austin, TX (PRWEB) May 02, 2017
SignatureCare Emergency Center – South Austin is having their Official Ribbon Cutting Ceremony May 3rd at 5701 West Slaughter Lane Bldg G Austin, TX. The Emergency Center opened early March, as the first SignatureCare Emergency Room in Austin, TX.
"We're excited to formally celebrate the opening of our Austin Emergency Room," said Aaron Braun, SignatureCare's Managing Member. "The ribbon cutting ceremony will double as an open house, and all of our Austin community members are welcome to come and bring their families." We strive for patient satisfaction, high quality care and no long wait times. "Your Care is our Signature."
Our Austin ER is fully equipped to handle most emergencies at hand. The Free-Standing Emergency Room offers little to no wait times, on-site imaging services: such as X-rays and CT scans, and has a full on-site laboratory. All the doctors at SignatureCare Emergency Center are board-certified and able to treat both adult and pediatric emergencies.
"As a free-standing ER we have the ability to tend to our patients on more of a one-on-one basis," said Braun. "We offer ER care that is more personal than hospital based ERs." SignatureCare is one of the fastest growing emergency centers in Texas, with current locations in Houston, Austin, College Station and Stafford, TX.
For more information on SignatureCare Emergency Center – Austin visit http://ercare24.com/austin/
About SignatureCare Emergency Center
Licensed by the Texas Department of Health Services, SignatureCare Emergency Centers are freestanding emergency rooms that are always open. SignatureCare has four locations in the Houston area with each offering state-of-the art medical imaging, and X-rays. All of our emergency rooms are fully staffed with medical professionals, including board-certified physicians, licensed nurses, radiology technicians, and emergency-trained ancillary staff. All SignatureCare Emergency Centers are open 24/7- 365 days a year.
For more information on SignatureCare Emergency Center and its other locations visit http://www.ercare24.com.