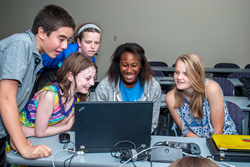 (PRWEB) May 01, 2017
Emagination Computer Camps, a national operator of summer technology camps, is adding ten exciting new workshops to its 2017 summer camp season for kids and teens aged 8 – 17.
Some of the new workshops include: Augmented Reality, 3D Printing, Motion Graphics Programming, and Minecraft Engineering.
In total, Emagination offers 26 technology workshops covering a variety of STEM related activities, such as creating digital media, video game design, computer programming, and engineering. During each two-week camp session, campers choose three technology workshops plus a recreation activity.
For a complete listing of Emagination's new technology workshops, click here
Emagination's Computer Camp program blends technology learning with fun summer camp activities such as a Talent Show, a day of games on Saturday, and an evening program of recreation and technology to create a well-rounded summer camp experience.
Offered in five locations, near Boston, Philadelphia, Chicago, Atlanta, and in Fairfield, Connecticut, boys and girls from around the country and many foreign countries have trusted Emagination for a diverse summer camp experience since 1982.
Emagination also offers two specialty STEM programs for teenagers, Emagination Programming Camp and Emagination Game Design.
Offered at all five locations, Emagination Programming Camp, is a program for teens ages 13 – 17 who have an interest in learning to code in C#, the most popular programming language for creating Windows applications.
In this two-week program, campers will learn the basics of programming in C# and how it is used by today's developers to bring seamless integration into desktop and web applications. The program is balanced with plenty of time for traditional camp activities including sports and swimming.
Emagination Game Design, is an immersive STEM program for teens ages 15 – 18 who have an interest in learning how video games are designed and developed.
Teens learn key technical and creative components of video game design, including level design and function, creation of 3D characters, lighting, sound effects, and programming. Working in teams, they build a playable video game that is presented to a panel of industry experts on the last day of camp. The program also includes a tour of a professional game design studio and guest speakers who come to campus.
For more information about Emagination Computer Camps, Emagination Programming Camp and Emagination Game Design, visit http://www.computercamps.com.