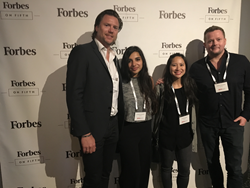 Both of these ACE Awards represent our clients' understanding and adoption of the Vertic Entangled Marketing model.
New York, New York (PRWEB) May 01, 2017
Vertic is today celebrating two leading decorations for their work, as they scooped The ACE Award for both Brand Website for the redesign of GE.com and Product Website for Microsoft Digital Transformation in Healthcare.
Designed to be inspiring and instructive, the Global ACE Awards are a standard-bearer for creative excellence in all its forms – online, mobile, social, print, TV, experiential, and integrated. In its 37th year, they are recognized as the longest-running B2B creative competition in The United States, and a signature event of the Business Marketing Association (BMA). This year's event was held at the Forbes Theater, in New York City.
Commenting on the awards, Sebastian Jespersen, CEO of Vertic, said, "Both of these ACE Awards represent our clients' understanding and adoption of the Vertic Entangled Marketing model. GE and Microsoft are communicating complex, intangible value propositions - specifically around Digital Transformation - and it requires digitally transformative communication methodologies to be able to convey such thought leadership in the category."
In the case of GE.com, the vision was to create a new benchmark for the corporate website at a time when "customer experience" is undergoing massive change. Integrating Artificial Intelligence into the platform's experience, continually learning from insights about users' needs, a search functionality was front-and-center on the site to help visitors find content quickly and easily. Content on the site no longer needed to be "pushed" from brand to stakeholder and users received contextualized recommendations to improve and simplify their experience, while helping move them forward in their decision journey.
As part of Microsoft's story in digital transformation, specifically in the healthcare industry, the Health Digital Transformation experience is a visually impactful presentation that helps Microsoft to further entangle with customers by navigating a conversation with them about a complex value proposition. Becoming a hub that houses all content for Digital Transformation in Health, it is fueling an increase in Microsoft's 'Share of Life' with customers through its usage as the ultimate resource for the field, partners and customers alike. It has since been adopted and scaled by other Microsoft industries as the communication platform for their Digital Transformation story.
"It really is an honor to work with such clients," continued Jespersen. "Both GE and Microsoft can be truly seen as pioneers in their visions to, respectively, transform the corporate website experience and move the needle in communication platform approach. It is only fitting to see a commendation for their confidence in our initiatives."
About Vertic:
Vertic is a global independent digital ad agency. Our award-winning solutions are based on our ability to blend the core competencies of strategy, story-telling, creativity, interaction-design, and in-depth understanding of content creation, in the pursuit of tangible business results. Vertic's mission is to help industry leaders apply interactive solutions to build their brands and create great customer experiences across the entire digital channel. Founded in 2002, we are represented in Copenhagen, New York, Seattle and Singapore. Please visit http://www.vertic.com