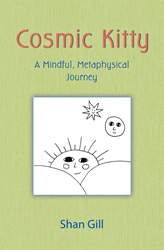 (PRWEB) May 01, 2017
When Shan Gill was 7-years-old, she started doodling cartoon characters as an escape. Now, the cartoon sketch appears in Gill's new book, "Cosmic Kitty."
In writing the children's book, Gill hopes to bring knowledge about and awareness of the importance of implementing metaphysics and mindfulness into the everyday lives of young ones and adults.
"Cosmic Kitty" follows Gill's childhood doodle, now named Cosmic Kitty, who travels into alternate dimensions of her world for adventure and curiosity with her spirit guides. Along the way, she learns valuable lessons about the harsh impact of bullying, the positive reaction for showing compassion toward others, and the value of being true to one another.
"I hope 'Cosmic Kitty' encourages kids and adults to be more open to things outside of their comfort zones," said Gill. "Metaphysics and mindfulness can help people discover who they truly are while asking questions about their immediate realities."
"Cosmic Kitty" will show readers the power of discovery, compassion, and being true to oneself.
"Cosmic Kitty"
By: Shan Gill
ISBN: 978-1-5043-6914-5 (sc); 978-1-5043-6916-9 (hc);978-1-5043-6915-2 (e)
Available at the Balboa Press Online Bookstore, Amazon and Barnes & Noble
About the author
Shan Gill is a life strategy consultant, strategic business planner, author, and coach. She has over 20 years of corporate experience working in areas such as strategy, product, learning and development, operations, and manufacturing with Walt Disney in Hong Kong. This business experience, combined with her strong interest and training in metaphysics and mindfulness, has created a wealth of knowledge she uses to help both individuals and organizations. In addition to her corporate experience, Gill has a unique and complementary blend of traditional and metaphysical training. She is certified in leadership facilitation, intuitive development, reiki and tarot. She also has a Bachelor's Degree from St. Andrews College in Laurinburg, N.C. and an MBA from Georgetown University in Washington, D.C. For more information, please visit http://www.shangill.com.
# # #
Review Copies & Interview Requests:
LAVIDGE – Phoenix
Courtney Coombes
480-998-2600 x 612
ccoombes(at)lavidge(dot)com
General Inquiries
LAVIDGE – Phoenix
Maggie Driver
480-998-2600 x 584
mdriver(at)lavidge(dot)com