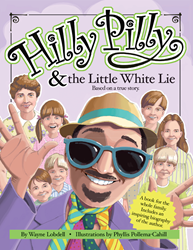 TRAVERSE CITY, Mich. (PRWEB) May 01, 2017
Prior to semi-retirement, author and business owner Wayne Lobdell held a successful career owning and operating numerous restaurants such as Kentucky Fried Chicken, Taco Bell and Pizza Hut with over 2000 employees. Lobdell was putting in an average of 80-hours a week, however, when his children were young, he would always try to find time to take a break during their bedtime.
To entertain his children, one night he dressed up as a silly visiting character named Hilly Pilly that created a lifetime of memories for his now adult children. Lobdell is sharing this character and all his silly jokes in his new children's book, "Hilly Pilly & the Little White Lie."
With its colorful and fun illustrations, "Hilly Pilly" entertains the whole family providing easy to remember and wholesome jokes such as, "Why do bananas put on sunscreen before they go out in the sun? So they don't peel!"
"I wanted to show the benefits of family togetherness," said Lobdell. "The book is based on my real life experiences with my children which they have now passed down to their own children."
The book inspires parents to create their own lasting memories with their children, have fun with their imaginations, and create stronger bonds between them.
The book also includes an inspiring biography of Lobdell and all profits from the book will be donated to The Boys and Girls Club of America.
"Hilly Pilly & the Little White Lie"
By Wayne Lobdell
ISBN: 978-1-365-38508-7
Available at the LuLu Online Bookstore and Amazon
About the author
Wayne Lobdell views himself as a very lucky guy. He was born in a basement and grew up in the humble environment of a little farm. The inspiring example of his father's hard work and meeting the love of his life in junior high pointed Lobdell on a path to finding his way to a better life. Through hard work and determination, Lobdell achieved the American dream; a wonderful family, success in business, contentment, and the ability to give back to his community. Together with his loving wife Terry, they have four children and 11 grandchildren and share their success by giving large donations to hospitals, schools, and various charities. Having a healthy, loving family with Christian values is the Lobdell's most important mission in life. They are now enjoying semi-retirement and split their time between Traverse City, MI and Boca Raton, FL.
For Review Copies & General Inquiries Contact:
LAVIDGE – Phoenix
Lauren Dickerson
ldickerson(at)lavidge(dot)com
480-998-2600