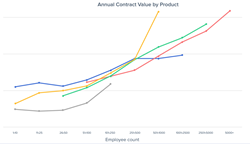 "The SaaS model was initially touted as being the paragon of transparency but that's not always the case." - Vamshi Mokshagundam
San Francisco, CA (PRWEB) May 04, 2017
Siftery, the business software data company, has released its inaugural Applicant Tracking Systems Pricing Benchmarks report. The report was built from survey responses at 293 different companies using recruiting software such as Greenhouse, Lever, iCIMS, Workable, and Jobvite. All companies were verified to be current users of the product reviewed.
In a world of software abundance, the growing number of unique pricing models has made purchasing software increasingly difficult for buyers. "The SaaS model was initially touted as the paragon of transparency, but that's not always the case," said Vamshi Mokshagundam, CEO at Siftery.
For its inaugural Pricing Benchmarks report, the company took a look at Applicant Tracking Systems because of the space's competitiveness, complex pricing models, and recruiting software's central role for many companies.
"Competition for top talent has pushed companies to search for new competitive advantages and, as a result, ATS platforms are quickly becoming a necessity for recruiters everywhere. This nascent market is seeing incredible growth, but the majority of ATS providers don't publicly list their pricing - making it difficult for buyers to compare vendors. With the help of our community, we can help change that." said Bryan Weis, a Manager at Siftery in charge of the pricing survey.