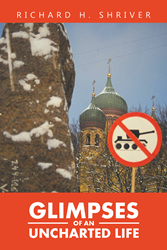 Hartford, CT (PRWEB) May 01, 2017
Author Richard H. Shriver, who spent eight years living under Soviet and post-Soviet rule, has released a memoir detailing this life entitled "Glimpses of an Uncharted Life." The book also portrays his experience working with the U.S. government, and the lessons he learned about big bureaucracies, politics, foreign economic development, forms of government, the importance of culture, the Cold War, and tyranny.
The memoir is divided into three parts. Part one delves into his experience living in a communist and post-communist culture. Part two describes life working at the Pentagon, and talks about policymaking, mainly at the national level. Part three takes on a more personal tone, offering insight into choosing the right career and the importance of planning ahead, things the author never did.
Shriver says that living in the USSR was nothing like the history books. "Soviet Communism was worse than we thought, and I hope it's gone forever," he said. "People can read my book and get a flavor of what life was like without having to experience it for themselves."
As for his stateside experiences, he has a much more cautiously optimistic outlook, which comes from his time serving as a government consultant, as well as working with the Departments of Defense and Treasury.
"Although the U.S. will forever be the target of world dissidents and terrorists," said Shriver, "it is also the country most likely to be able to help other countries in developing mature, stable governments represented by the people."
"Glimpses of an Uncharted Life" will take readers on a journey through a life others can only imagine: a day in the life of a U.S. citizen in a Communist country, and as a top American government official.
"Glimpses of an Uncharted Life"
By Richard H. Shriver
ISBN: 978-1-53200-967-9 (softcover); 978-1-53200-968-6 (hardcover); 978-1-53200-969-3 (e-book)
Available at the iUniverse website and Amazon
About the author
Richard H. Shriver was trained as an engineer and as a mathematician/statistician. He leapt from a small company to a top civilian position in the Pentagon. His Cold War experience led to years of adventures inside the Soviet Union and Eastern Europe. Shriver left behind a new legal system for Estonia and thousands of new private sector jobs in an independent Ukraine. He lives with his wife, Barbara, in Old Lyme, Connecticut.
To learn more about the author, please visit his website.
###
Contact:
LAVIDGE – Phoenix
Kalin Thomas
480-998-2600 x 524
kthomas(at)lavidge.com