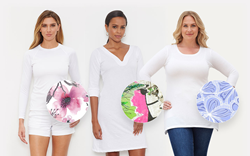 "...all about providing women with a uniquely personal experience as they become part of the creative process..."
St. Louis, Missouri (PRWEB) May 16, 2017
The Whimsy site offers over two thousand combinations of print-to-style options. Shoppers looking for custom personalization can select from over a hundred prints and nearly two dozen body styles to have their personalized garment produced and shipped to them in as few as five days.
Women today have significant apparel options via shopping on the Internet. However, once they find their favorite tee, tunic, or dress for comfort and fit, they find limited choices available to them to purchase additional prints for their favorite styles. At Whimsy Rose, this desire is presented as a unique opportunity for the stylish shopper.
"Our sites elegant custom personalization, celebrates the artistic spirit in each of us" states Peter Daneyko, Co-Founder of Whimsy Rose. "For example, you may love that fun V-neck top for fit and fabric, but you don't like the few available prints presented. At Whimsy Rose we provide the customer with a vast array of designer print selections, combined with the ability to be an active part of the creative process, which results in a more engaging and interactive online shopping experience."
The St. Louis based, premium dye-sublimation company leverages their patented (AOP) all-over print license with its own on-demand production system to deliver customized individual garments. Having produced over a quarter million print to garment pieces, the company's experience with personalized AOP design has provided Whimsy Rose with several key insights. Daneyko shares, "We've discovered that more than ever, most female consumers regardless of age, consider themselves to be creative individuals who are web-savvy and more empowered than ever before. Whimsy Rose looks to be both positively disruptive when it comes to options for prints in fashion and more empowering with regard to women's choices of them."
Like art, prints on garments are very personal and hence very subjective as to what appeals to different audiences. For that reason, Whimsy Rose features a highly diverse group of artists and textile designers who provide designs for its ever-growing print design library. Daneyko concludes, "Where most apparel manufacturers produce large quantities of a given piece, and hope that the garment resonates with a wide audience, Whimsy Rose is all about providing women with a uniquely personal experience as they become part of the creative process for their individually produced garment; making it truly their Whimsy!"
About Whimsy Rose
Whimsy Rose is print driven women's apparel brand that celebrates the artistic spirit through custom personalization and on-demand production. By enabling women to easily mix designer prints with styles of their choosing, Whimsy Rose gives women greater flexibility and freedom to express themselves, as they become part of the design process with their apparel choices.
Contact Information
Peter Daneyko
Whimsy Rose
314 266 5362