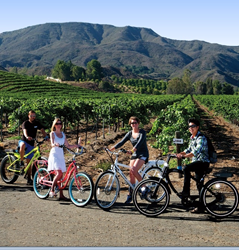 Temecula Valley, CA (PRWEB) May 09, 2017
Outdoor fitness options abound in Temecula Valley Southern California Wine Country allowing traveling adventurers to stay fit and healthy while visiting the region's beautiful rolling hills, picture-perfect landscapes, and sunny Southern California weather.
Explore Temecula Valley's Great Outdoors on Hiking, Biking, and Riding Trails
The rolling hills of Temecula Valley Southern California's Wine Country provide a unique cardio adventure for cyclists seeking a challenge with a view while on vacation. Visitors to the region can rent or bring their own mountain bikes or cruisers for exercise enjoying the beautiful, Southern California sun and fresh air. The Santa Rosa Plateau's Ecological Reserve, located in the foothills of the Santa Ana Mountains above the Temecula Valley, offers serious mountain biking terrain as well as biking trails for every level. While at the Santa Rosa Plateau, hikers can get their hearts pumping as they walk along the paths and trails through 9,000 acres of woodlands and prairie.
In addition to biking and cycling opportunities, the trails throughout wine country are perfect for exploration on horseback. Visitors to the region can bring their own horses, to be kept in care at one of the region's many stables including Galway Downs or Green Acres, or those wishing to try a new adventure can book lessons or a trail ride at Green Acres Ranch. Guided trail rides through Wine Country are also available.
Learn How to Sip Temecula Valley Wine while Staying Fit
Even while visiting the Temecula Valley Southern California Wine Country's wineries, visitors can do their best to stay fit (and try to offset the caloric intake of unique varietals of wine) thanks to unique programs and classes offered directly at a handful of wineries. VineyardFIT at Miramonte Winery offers semi-private, small-group fitness training by a professional trainer. The outdoor classes take place in the vineyards three times a week; visitors to the region will love that the first class is always free. At Cougar Winery, visitors can enjoy their Passion for Fitness, a bootcamp style fitness class offered throughout the year in the vineyards. At The GrapeSeed Spa at South Coast Winery Resort and Spa, guests can enjoy the combination of two stress-relieving, body-loving activities - wine and yoga - while enjoying the Vino Vinyasa class.
Temecula Valley Fitness Events to Plan a Getaway Around
Visitors to the Temecula Valley Southern California Wine Country can also plan their trip around several races that take place in Wine Country throughout the year including SoCal Wine Country Women's Half Marathon & 5K Trail Run – June 3, 2017; Rugged Maniac 5K Obstacle Race – Oct 21, 2017; and the Temecula Half Marathon & 5K – Nov 12, 2017. Details and event registration can be found on the event websites.
About Visit Temecula Valley
With natural gifts of climate and geography Temecula Valley Southern California Wine Country is recognized for scenic vineyards, award-winning wines, and 40+ wineries. The popular, boutique destination includes the Temecula Valley A.V.A. (American Viticulture Area) as well as Historic Downtown Old Town Temecula, Pechanga Resort & Casino, and Temecula Wine Country Golf Trail.
Visit Temecula Valley is the region's official tourism marketing organization and an online resource for visitors at VisitTemeculaValley.com. Temecula Valley Visitors Center is located in Old Town Temecula (Third Street and Mercedes). For visitor information and assistance, call (888) 363-2852 or (951) 491-6085.
###