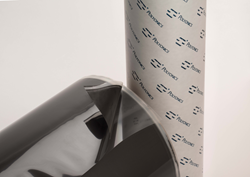 Polyonics new adhesive transfer tapes provide industrial strength bonding solutions for high temperature applications.
Westmoreland, NH (PRWEB) May 05, 2017
Polyonics new adhesive transfer tapes are designed specifically for high temperature applications. The tapes are available in both high temperature acrylic and ultra-high temperature silicone pressure sensitive adhesives each in a range of thicknesses and temperature ranges.
The Polyonics tapes offer manufacturers thin profiles and optional flame retardant and thermal conductive performances. They are supplied with double liners for ease of handling and die cutting, provide high bond strengths, are chemical resistant and ideal for use in harsh environment applications.
Features and Benefits

Solvent-based Acrylic and Silicone PSA Families
High Bond Strengths
High Temperature Resistances
Harsh Chemical Resistances
Thin, Conformal Bond Lines
Flame Retardant Options
Thermal Conductive Options
Polyonics at a Glance
Polyonics manufactures innovative, high performance coated film, tape, label and tag materials that withstand high temperatures and harsh environments while protecting products from ESD, heat and/or fire. The materials are used by converters and OEMs worldwide.