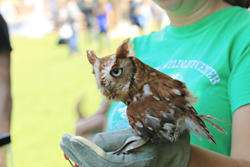 Durham, NC (PRWEB) May 04, 2017
Roughly 200 people, many who work at the American Tobacco Campus, came out to enjoy the Law Offices of James Scott Farrin Earth Day picnic under the historic Lucky Strike water tower April 21st.
The law firm gave away free Earth Day cake pops (courtesy of NC Cookie Girl), lemonade, and water. Mellow Mushroom and ATC's newest restaurant, Maybelle, a barbecue and biscuit restaurant, offered lunch for purchase. Guests came away with giveaways from the 11 eco-minded businesses and non-profits who came out to share their initiatives and programs.
Many took advantage of the large chalk board on display to draw and share their own ideas for sustainability and green practices.
Invited businesses and non-profits had much to share too. Do you know why you shouldn't throw food out of your car? While food is biodegradable, it attracts rodents and the rodents attract owls and other raptors to the roadside. More than 50% of the injured owls sent to Piedmont Wildlife Association were injured on the side of the road feeding on a rodent, including Otis the screech owl who was on hand live (and awake). Tilthy Rich Compost demonstrated how to take food waste and easily turn it into compost to use as an organic garden fertilizer. Watering that garden sustainably by using rain barrels was just some of the information the City of Durham Department of Water and Management and the Durham County Soil & Water Conservation District shared. Other earth-friendly organizations who came out to share sustainability information included:
● Earth Share NC
● Ellerbe Creek Watershed Association
● East Coast Greenway
● GoTriangle
● Keep Durham Beautiful
● Nature Conservatory
● Scrap Exchange
James S. Farrin, president and founder of the Law Offices of James Scott Farrin was in attendance to welcome many of the guests to this first of what the firm hopes will be many more Earth Day events at ATC.
"Most businesses at the American Tobacco Campus are like-minded when it comes to sustainability and environmental issues. We thought it would be a great idea to bring our ATC neighbors together and share these ideas with each other. I think people really appreciated that effort, and it seemed they were enjoying themselves. I certainly did," he said.
Embracing environmental friendliness is not a new concept for the firm. When they set out to relocate their headquarters seven years ago, they worked with ATC contractors, engineers, designers, and others to ensure that their space would be LEED compliant. Subsequently, the firm has made great strides to minimize their footprint even more.
In 2015 the firm stopped using Styrofoam cups in all offices statewide. They estimate they have saved the planet from 27,000 cups since then – an amount as tall as 10 Eiffel Towers by their calculations.
According to the firm, employees try to be aware and cognizant of paper usage, which can be difficult for a law firm. They have reduced paper consumption by transitioning some of their more paper-focused firm processes to electronic communications. Other pro-environmental efforts include:
● Adopting easier, more efficient, and more user-friendly recycling stations
● Replacing K cups with compostable pods
● Recycling coffee grounds
● Tracking the amount of paper printed and efforts to decrease it quarterly
● Adopting a one-mile stretch of Walnut Creek Trail in Raleigh for quarterly clean up
● Promoting environmental clean-up outings for employees and their families
● Promoting alternative transportation among employees
● Using a car fleet with an EcoBoost option
● Shredding documents through a service that recycles
Visit James Scott Farrin Facebook for photos of the event.
ABOUT THE LAW OFFICES OF JAMES SCOTT FARRIN
The Law Offices of James Scott Farrin is headquartered in the American Tobacco Historic District, adjacent to the Durham Bulls Athletic Park, in Durham, North Carolina, with 13 additional offices statewide in Charlotte, Fayetteville, Greensboro, Greenville, Goldsboro, Henderson, New Bern, Raleigh, Roanoke Rapids, Rocky Mount, Sanford, Wilson, and Winston-Salem. The firm's 42 attorneys focus on the following practice areas: Personal Injury, Workers' Compensation, Social Security Disability, Eminent Domain, Intellectual Property, Civil Rights, Mass Torts, and Products Liability. Seven of the attorneys are North Carolina Board Certified Specialists in Workers' Compensation Law and one is a North Carolina Board Certified Specialist in Social Security Disability Law. The Law Offices of James Scott Farrin is involved in the community, including sponsorship of local philanthropic organizations.
Contact Information:
David Chamberlin
280 S. Mangum Street, Suite 400
Durham, NC 27701
866-900-7078
http://www.farrin.com