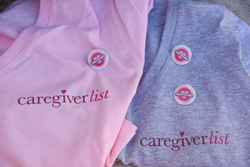 Caregiver Training University will enhance any caregiver's or caregiving business' performance
Chicago, Illinois (PRWEB) April 30, 2017
Certified Home Health Aide online training for New Jersey is now available through the Caregiver Training University. New Jersey Senior Care companies can now train caregivers through the Caregiverlist® Digital, smartphone and tablet-friendly Caregiver Training Portal, with coursework designed specifically to comply with New Jersey Board of Nursing Requirements to become a CHHA.
Caregiver training requirements vary by state. A total of 76 hours of training is required for New Jersey Home Health Aide and Homemaker Certification, 60 hours of which may be taken online.
Caregiverlist® Caregiver Training University's NJ CHHA Training includes:
Introduction to the Role of a U.A.P. in Nursing Care Setting: 2 Hours
Foundations for Working with People: 6 Hours
Safety for Fire, Infection Control, Body Mechanics, Emergencies: 7.5 Hours
Systems-Related Care including the Gastrointestinal, Urinary, Cardiorespiratory, Neurological, Endocrine, Reproductive, Immune, and Integumentary Systems, as well as Sleep, and Death and Dying: 34.5 Hours
Home Care Caregiving Skills: 10 Hours
Online exams
Audio and Video learning
Online and telephone support
Home Care Agencies may purchase training class passes in bundles that never expire.
"Caregiver Training University offers exceptional caregiver training programs using an online platform that is easily accessible by computer, tablet or cell phone," said Karen Holmes, CEO of First Home Care Training, Fort Lee, New Jersey. "Our faculty and students have been giving Caregiver Training University rave reviews. Caregiver Training University will enhance any caregiver's or caregiving business' performance."
New Jersey caregivers receive 24/7 access to course sections, tip sheets, and quizzes that are easy to use and understand. Upon successful exam completion, caregivers are rewarded with a certificate which they may print in a wallet card size or full-size certificate for framing. A caregiver certificate is awarded in recognition for passing each Caregiverlist® Caregiver Training University course.
"Online training delivers accountability for the caregivers with easy tracking by home care companies for date of enrollment, last log-in and exam score while also delivering a sense of accomplishment to the home health aide," according to Julie Northcutt, CEO and founder of Caregiverlist®.
Once certified, CHHA caregivers may consider a C.N.A. school in New Jersey to advance their careers.
About Caregiverlist®
Caregiverlist.com® is the premier service connecting seniors and professional caregivers with the most reliable senior care options, highest quality ratings and outstanding careers nationwide. Founded by senior care professionals, Caregiverlist® delivers the efficiencies of the internet to senior care companies by providing online job applications, caregiver training, background checks and industry news. Seniors and caregivers can access senior service information "by state," view nursing home costs and star-ratings and learn about all senior care options and quality standards. For more information, please visit http://www.caregiverlist.com.