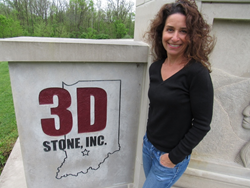 3D Stone couldn't be more proud to be certified and have the support of the WBE, an organization that continues to advance women's professional endeavors
Bloomington, Ind. (PRWEB) May 01, 2017
After an extensive process, 3D Stone Inc., a leading fabricator of Indiana Limestone, has received the Women's Business Enterprise (WBE) certification. This recognition certifies 3D Stone as a woman-owned business under direction of Lily Sendek, the company's CEO.
To be eligible for WBE certification, a woman must own, manage, and control at least 51 percent of a business entity and be a U.S. citizen or legal resident. In addition, she must serve as President or CEO (if both positions exist), have ownership and an officer position for at least six months, and be active in daily management. Lily Sendek fits all of the above criteria, thus making 3D Stone eligible and now certified.
3D Stone Inc., having recently reached the milestone of 25 years in business, is excited about the opportunities that being WBE certified can bring. As one of the largest, most reputable sources of architectural limestone, the company delivers exceptional professional guidance, quality and craftsmanship on a full spectrum of developments including large scale commercial projects, residential projects, and uniquely designed landscape projects. With a fully enclosed 52,000 square-foot facility, 3D Stone fabricates high volumes of products in a time-sensitive manner year-round. 3D Stone's highly skilled planer and carving personnel can fabricate stone to even the most challenging plans. While cut stone is a primary focus, the company also specializes in custom slabbing, splitface veneer and tumbled rubble. With their new WBE certification, 3D Stone can now offer several benefits to those the company works with.
Accreditation, managed by the National Women Business Owners Corporation (NWBOC), enables contractors to receive credit for partnering with minority status companies when creating projects for government entities or others who may require such participation. 3D Stone's WBE certification qualifies the company under minority status. In addition to the minority partnership credit, purchasing agents are granted the confidence associated with WBE certified companies - the guarantee that a business representing itself as woman-owned is in fact woman-owned.
"3D Stone couldn't be more proud to be certified and have the support of the WBE, an organization that continues to advance women's professional endeavors," said Lily. "While women owned businesses comprise a small share of the American economy, we are vitally important to the growth and future of our society. In the last year and a half, we have made significant investments in our future that support not only the economy and women within the stone industry, but developments that have led to 3D Stone's enhanced capabilities."
For additional information on 3D Stone, please contact Lily Sendek at 812-824-5805, see our social media pages, or visit our website at: 3dstoneinc.com.