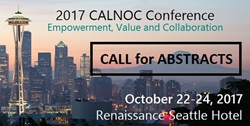 "The insight I received at the CALNOC conference left me inspired to advocate for nursing and be the voice, encourage emerging leaders to think outside the box, and put their heart in nursing. We need to continue empowering ourselves as one strong team."
San Ramon, CA (PRWEB) May 01, 2017
The 2017 Conference Planning Committee invites Ambulatory Facilities to share their journey, accomplishments, innovations, and improvements in performance with CALNOC's nursing and quality communities by submitting an abstract for poster presentation. The Education Planning Committee may select your poster abstract for participation in conference podium panels.
Abstract Presenters will be able to share best practices and insights into the evolving efforts to improve patient care. Abstracts may focus on the following topics and include how benchmarking for quality improvement (with CALNOC data and reports, or in other QI methods) have helped your organization.

Use technology (especially web based) in support of CALNOC/QI measurement. We are especially interested in projects that have connected nursing sensitive indicator measure sets with your Electronic Health Record focusing on management of chronic conditions, immunizations and disease-prevention screenings.
Reduce and prevent Infections especially the elusive C-diff. bacteria.
Impact ED boarding, Left-Without-Being-Seen and ED thru put projects that have shown positive results.
Interdisciplinary team collaboration for improvement or adoption.
Sustain improvements in staffing, nurse turnover, nursing practice and processes, falls, pressure ulcers, medication administration accuracy (especially in an ePrescription environment), patient satisfaction, infection prevention.
Reduce the costs of patient care, while improving quality and safety outcomes, as a result of transformation delivery changes.
Click here for the Ambulatory Abstract Submission Form
- Deadline is May 30th -
CONFERENCE ABSTRACT FORMAT AND SUBMISSION GUIDELINES:
1. Abstracts should be a maximum of 500 words
2. Use 12 point font, single-spaced with 1 inch margins
3. Blinded Abstract Template:
• Title
• Purpose and/or Objectives of the abstract
• Background and Significance
• Description of Methods/Procedures/Practice Changes
• Results/Outcomes (including how you measured the results)
• Conclusion
4. Abstract Submission Form must be complete and accompany the abstract – this is the only place for the names of the presenters.
5. Summit electronically in MS WORD file format.
E-mail the completed packet
To: corinne.skaric(at)calnoc(dot)org
Subject: Conference Abstract
COMPLETE Abstract Packet
1. The Blinded Abstract
2. The Abstract Submission Form (see attached) for EACH abstract submitted
3. Primary presenter's CV or resume.
E-mail the completed packet
To: corinne.skaric(at)calnoc(dot)org
Subject: Conference Abstract
Completed Abstracts packets must be received by May 30, 2017.
ABSTRACT REVIEW, SELECTION AND NOTIFICATION
Our goal is to welcome as many abstracts as the program and space will permit. Confirmation of acceptance will be by e-mail no later than June 30, 2017. Abstracts will be included in the conference program guide. NOTE: All abstract presenters must register for the conference by August 15, 2017.
QUESTIONS?
Questions regarding the conference, the abstracts, and the selection/confirmation of presentations should be directed to Corinne Skaric (corinne.skaric(at)calnoc(dot)org -or- 925-298-4812).
We appreciate your participation as an Abstract Presenter and look forward to seeing you at the 2017 CALNOC Conference as we focus on Empowerment, Value and Collaboration. The contribution and participation by submitting your Ambulatory Abstract plays an integral part in CALNOC's mission to advance global patient care excellence!