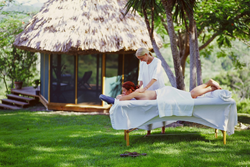 We want people to come away from this year's solstice with a deeper understanding and appreciation of this fascinating, enigmatic culture
San Ignacio, Belize (PRWEB) May 03, 2017
The Lodge at Chaa Creek's location in Belize's ancient Maya heartland makes it possible to host "the Ultimate Summer Celestial Celebration" for the 2017 Summer Solstice, and new tours, activities and a "culinary exploration" that highlights Maya cuisine will make this year truly exceptional, the eco-resort's social media administrator recently announced.
The summer solstice was a particularly significant annual event for the ancient Maya, Jared Bradley said, and each year the popular Belizean eco-resort's celebrations honour a tradition that stretches back for thousands of years.
The 2017 Belize celebrations, Mr Bradley said, will combine exploration with music, food, archaeology, and arts and crafts to create a hands-on, immersive cultural experience.
"We want people to come away from this year's solstice with a deeper understanding and appreciation of this fascinating, enigmatic culture. Learning about the Maya is an adventure in itself, and by combining hands-on exploration of ancient Maya temples and city-states with traditional Maya banquets and opportunities to learn traditional tortilla making and food preparation, weaving, healing, organic gardening and other Maya skills, we want to make it relevant, exciting and fun," Mr Bradley said.
And, following a trend established in previous years, wellness will be part of the mix.
"The Maya believe that balancing the mind and body is essential to health and happiness, and that's something else we like to highlight during the summer solstice, with professional care at our Hilltop Spa that promotes serenity and getting in touch with both ourselves and the surrounding nature," he explained.
This year's summer solstice falls on Tuesday 20 June at 11.24 pm – a date the ancient Maya predicted with astounding accuracy thousands of years ago. So important were celestial events such as equinoxes and solstices to the Maya astrologers that their mathematicians developed the concept of zero, long before other civilisations, to enable complex calculations.
Papermaking, a written language using glyphs, and the establishment of vast libraries were all part of recording their profound understanding of astronomy and celestial events, which then informed everything from political alliances to their day-to-day activities.
Chaa Creek's summer solstice celebrations, Mr Bradley said, reflect the importance keeping these thousands of years old traditions alive while "providing a good reason to celebrate with feasting, fun and healthy activities," he said.
"Chaa Creek was an important trade, agricultural and administrative hub for the ancient Maya, and with the ceremonial centre and temple pyramid of Xunantunich so close to us, it's safe to say that summer solstice celebrations have been occurring right here for thousands of years. We're very aware that our celebrations are part of a tradition stretching across many centuries, so we like to combine education with celebration," he said.
"In addition to excursions to ancient Maya cities and temples such as Xunantunich, Cahal Pech and the huge metropolis of Caracol, we also have local Mayanists and archaeologists give talks that, combined with knowledgeable licenced guides conducting tours, give our guests an in depth, well rounded experience."
Mr Bradley pointed out that the 400-acre private nature reserve surrounding Chaa Creek has changed very little since the glory days of the Maya civilisation. The reserve contains some 70 Maya archaeological sites and a temple, and is still home to the same tropical wildlife and birds the ancient people knew so well. Nature walks, canoe or tubing trips down the river, and just being surrounded by the jungle all give guests a unique opportunity to experience life as the ancient Maya would have.
And, just as it would have been for the ancient Maya, food will be an important part of the summer solstice celebrations.
"In addition to our well-reviewed restaurant fare we'll be serving classic Maya dishes such as tamales and an authentic Kackick soup, a classic delicacy slow simmered in a clay pot with turkey, roasted vegetables, dried chillies, cilantro and roasted Maya pepper.
"It's a dish that Maya royalty loved, and so did England's Prince Harry when he stayed here. Our chefs will offer Maya-influenced recipes, and guests who wish to will have the opportunity to learn how to make corn tortillas from scratch, exactly as they have been for so many thousands of years," Mr Bradley said.
"Guests will also have the rare and wonderful opportunity to hear Maya music performed live, courtesy of Belize's best Maya flautists and harp players.
"By visiting ancient Maya temples, walking through the same rainforest and canoeing the same river the ancients did – even sleeping under identical thatched roofs, our guests will have a rare opportunity to be completely immersed into ancient Maya life. And they'll have a great vacation while doing it, with a choice of eco-luxe accommodations, farm-to-table dining sourced from our own traditional Maya organic farm and fresh seafood from Belize's Caribbean coast, amenities such as an infinity pool and lounge and the internationally recognised Hilltop Spa.
"With a wide range of activities, from swimming, horseback and mountain bike riding through jungle trails, tours of the onsite Natural History Museum, butterfly farm, Maya medicinal plant trail, Maya organic farm and more, there's something for everyone.
"Participating in an event as ancient as the Maya summer solstice celebration makes for a memorable experience people will want to share with families, friends and loved ones. It's something they'll talk about for years to come," Mr Bradley said.
Further information and bookings may be organised through travel agent or by contacting Chaa Creek directly, Mr Bradley said, and he encouraged travellers to book early to avoid disappointment.
The Lodge at Chaa Creek is a multi-award winning eco resort set within a 400-acre private nature reserve along the banks of the Macal River in Belize. It was recognised by National Geographic with first place honours at the 2017 World Legacy Awards held in Berlin.
ENDS