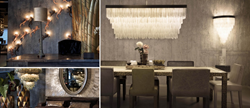 The jaw dropping pieces are the stunning work of CRAVT original. An interior design specialist who works with clients on an intimate level to provide pieces that truly reflect personality and lifestyle
Amsterdam, Netherlands (PRWEB UK) 2 May 2017
The $5 million dollar retail stock at the showroom is to be sold by public auction, following the decision by CRAVT to focus on bespoke interior projects, creating inspirational unique and personal interior solutions that really tell the story of the client.
This unprecedented opportunity to acquire furnishings, artefacts and decorations from their luxury collections will be entering the auction market between the 16th – 18th May, providing an opportunity for the bidder to find rare and exclusive pieces by this world renowned brand at a fraction of the retail price.
The combination of traditional craftsmanship and design makes the collection unique which sees the interiors firm extensively exhibiting at the Worlds leading luxury interiors events, trade fairs and exhibitions including Masters of LXRY, Maison & Objet in Paris, Asia and Americas, Boutique Design New York (BDNY), a leading trade fair for the hospitality & leisure sectors and HD Expo Hospitality Design Event in Las Vegas.
Denise Boekhoom, daughter of one of the wealthiest entrepreneurs in the Netherlands and wife of a formula 1 racing driver, manages CRAVT from headquarters in The Netherlands, supplying products to thousands of customers worldwide, with the collection finding it's way to luxurious interiors in over 90 countries.
Mark Flynn, director of the UK based auctioneers conducting the sale said, "The reality is that rare and exclusive pieces have a very high retail price and the opportunity to buy them at auction represents a chance to buy them at a discounted level, It is not just a case of having a waiting list for luxury goods- it's the ability to get on that waiting list now and buy them at a competitive price".
The auction sale will be webcast all over the world allowing interested bidders to log on to the internet, register and bid from the comfort of their own home, participating in real time with the auctioneer in Amsterdam.
The auction takes place at the CRAVT Amsterdam Showroom commencing at 10.30am, over three days between the 16th and 18th May 2017. Online bidding is also available via a live webcast. The viewing takes place from 10.00am-4.00pm from the 14th May 2017. The auctioneers offer a full delivery service for any goods purchased at the CRAVT sale.
Catalogues are available by calling +44-(0)1761 414000 or via download from http://cravtauction.com/ or directly from the bidding platform.