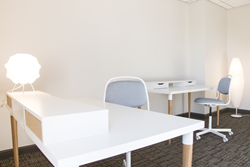 People like the community aspect but at the end of the day, it's nice to be able to close your door.
Nashville, TN (PRWEB) May 02, 2017
Center 615 has added 34 private suites and 10 work stations to its newest expansion, plus a meditation room, a nap room, additional conference rooms, lounges and kitchens.
The expansion brings the Center 615 East Nashville campus to 65,000 square feet, with 92 private offices, 8 conference rooms, 26 coworking spots and 2 event spaces across three buildings on Main Street. Free parking is standard, too.
Next up is a lush courtyard with a putting green, shuffleboard, lounge seating, breakout meeting space and more, all in the space that once served as a construction company's garage, maintenance, and loading dock. Work starts in June with the opening expected in September.
Owner and developer Christian Paro consistently weights his projects in favor of private offices while creating smaller coworking areas and big opportunities for community interaction and events.
"People like the community aspect but at the end of the day, it's nice to be able to close your door," Paro said.
Despite the buzz, "coworking," an upgrade from a coffee shop nook that comes with membership amenities such as conference room time, doesn't always serve the needs of teams well. It can be a perfect fit for a single person or two people whose venture will expand, but emerging sentiment suggests an open floor plan increases distraction and decreases productivity.
Paro and his team already knew that.
"We take trips each year, and every single time big open floor plan places were scrambling to build out more private offices," he said.
They've seen it in Atlanta, Chicago, San Diego, Portland, Chattanooga - even Paris, Amsterdam and Budapest. They're seeing it in Greater Nashville where competitors that opened without private offices are updating their space to accommodate tenants.
Roscoe High, a commercial broker with Southeast Ventures, credits Paro for "finding a niche that is underserved."
The industry standard is a three-year lease and a minimum divisible space of 3,000 square feet, he said. For a new tech startup, two-person law office, or even four-person firm, options are limited.
"You can lease from a friend. You might find an office condo here and there," High said. "But unless you have 5-6 employees and a three-year term, a lot of commercial office space isn't interested."
Suites in the recently opened west wing in Center 615's flagship building range from 100 to 700 square feet, with cluster options available to create a larger footprint into several thousand square feet. The diversity and flexible terms make an attractive difference.
Leases start at 6-months or a year, and members can add on or move to a smaller or larger space within the campus at any point during their lease with no penalty.
"Christian has been able to create an environment above and beyond offices," High said. "It is a community of collaboration where small business owners and sole practitioners can come and go and not worry about the length of the lease term."
Community is key. Beyond beer and ping pong, Center 615 has organized member events from laser tag to fancy wine tastings and elaborate costume parties.
"We approach it more strategically and take cues from our members on programming," Paro said.
About Center 615
For information about available suites visit the website or call 615-457-1596, extension 3. Center 615 comprises three buildings on Main Street in East Nashville - Main, at 615 Main St.; Bricks, at 625 Main St., and Loft, at 626 Main St. - plus Studio 615, at 272 Broadmoor, which serves videographers and photographers. Indoor and outdoor event spaces are available for rent at several buildings.
High resolution images for print publications and additional images are available.