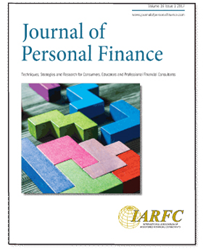 Financial literacy in this country is really low. Reading articles in journals like ours can only help raise the level of financial literacy...Dr. Walt Woerheide
Middletown, OH (PRWEB) May 01, 2017
Initiated in 2002, the Journal of Personal Finance has grown in scope, acceptance and recognition among practitioners and academicians. The Journal welcomes articles from practicing financial professionals and consultants about financial products and services, client relationships, retirement planning, long-term care, practice management, and firm operational efficiencies.
Six articles included in Volume 16, Issue 1. Topics explored are: The Home as a Risky Asset, The Impact of Rates of Return on Roth Conversion Decisions and Retiree Savings Wealth, Do Financial Advisors Follower Their Own Advice? Evidence from 2008-2011, Expected vs. Actual Retirement Savings Behavior of Highly Educated Individuals, Risk Tolerance and Goals-based Savings Behavior of Households: The Role of Financial Literacy, Preventing Financial Elder Abuse
Wade D. Pfau, Ph.D. CFA, RFC®, is a Professor of Retirement Income in the new Ph.D. program for Financial and Retirement Planning at the American College in Bryn Mawr, PA.
Walt Woerheide, Ph.D. ChFC®, CFPTM, RFC®, has been at the American College for 14 years and served as VP of Academics and Dean for 12 of those years. He is a member of the Master Registered Financial Consultant (MRFC) Certification Board that oversees the Association's path to third party accreditation through the NCCA.
Per Dr. Wade Pfau in the May/June edition of the IARFC national publication, the Register, "The Journal of Personal Finance can be considered as one of the 'Big 5' research journals in the field of financial planning." Dr. Walt Woerheide, co-editor feels, "A journal helps to define the interests of the membership and should be providing significant benefits to the members. It marks one of the differences between organizations whereby people pay dues to say they are a member of that organization, and an organization that is a professional entity."
For those who belong to the IARFC, The Journal of Personal Finance is a member benefit and a source of continuing education credits. Up to six credit of CE can be obtained by reading the entire edition. Per Woerheide, "My hope is that readers will find one or two articles in each issue that they will think are worth scanning or even reading, and as a result the article will give them a new insight into an issue, suggest new or better solutions in their work, or even help them identify an area where they might help clients that they had previously not thought of."
To order a hard copy or electronic version of the Journal, to find out more information or to review article submission guidelines, go to http://www.journalofpersonalfinance.com or contact the editors.