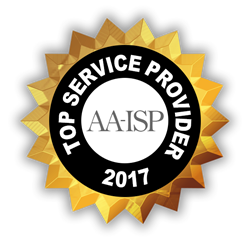 It is a huge honor for our organization to have the AA-ISP membership validate our efforts in providing an outstanding product and the highest level of service to the inside sales community.
Los Gatos, CA (PRWEB) May 01, 2017
On April 20, ConnectAndSell, Inc. was named by the American Association of Inside Sales Professionals as its Service Provider of the Year in the outsourcing category. Each year at its Annual Leadership Summit, the AA-ISP honors individuals, organizations, and service providers for their outstanding contribution to inside sales. ConnectAndSell was selected as the top service provider of outsourced services as voted on by the AA-ISP membership, consisting of more than 6,000 individuals representing 2,500 member organizations in the US and around the world.
The AA-ISP is an international association dedicated exclusively to advancing the profession of Inside Sales. The association engages in research studies, organizational benchmarking, and leadership round tables to better understand and analyze the trends, challenges, and key components of the growth and development of the Inside Sales industry. The AA-ISP's mission is to help inside sales representatives and leaders to leverage their information and resources through published content, local community chapters, national conferences, career development, and an Inside Sales Accreditation program.
"It is an honor to recognize ConnectAndSell as this year's recipient of Service Provider of the Year in the outsourcing category. ConnectAndSell has proven their dedication to helping advance the professionalism and performance of the inside sales industry, which is the mission of the AA-ISP," stated Bob Perkins, Founder and Chairman. "We applaud ConnectAndSell and thank them for their service to our growing profession and community of inside sales representatives, leaders and solution providers," stated Perkins.
ConnectAndSell, a Silicon Valley–based corporation established in 2007, has developed the world's most advanced sales-acceleration technology. They have been recognized by Forbes Magazine as one of the "10 Innovative Companies to Watch in 2016" and by Inc. Magazine's online publication in its list of "18 Tech Companies to Get Excited About" (March 31, 2016).
ConnectAndSell CEO Chris Beall said, "Recognition is always welcome, but this award is special because it is fundamentally grass roots. When the AA-ISP membership, including many of our frontline users, managers, and executives, say we are getting it done for them, the ConnectAndSell team feels the honor, and the responsibility to keep delivering, deeply."
This is the fourth year in a row that ConnectAndSell has been honored with this award from AA-ISP. Beall said, "The AA-ISP is inside sales, with members running the gamut from frontline sales reps and their managers through executive leadership. Inside sales professionals have the most demanding jobs in sales, and it's a privilege to provide the sales conversations they need to get the job done every day."
ConnectAndSell enables rapid, time-compressed sales growth without adding head count. With its patented technology and highly trained agents, ConnectAndSell's platform navigates gatekeepers, phone trees, interactive voice response systems, and voicemail pickups to connect salespeople to decision makers with unparalleled efficiency. ConnectAndSell enables a salesperson to have 50 or more live conversations per day with hard-to-reach decision makers, typically providing a 10x increase compared to any other approach, allowing reps to talk to more decision makers in 90 minutes than they would in a week of conventional dialing.