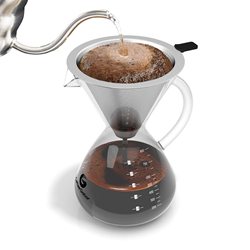 Pour over is a process that produces a consistently delicate flavor
(PRWEB) May 16, 2017
Premium brand of coffee accessories is celebrating a full year of providing the world with great pour over coffee makers.
You may have seen pour over coffee at your local artisan coffee roaster, raised an eyebrow at the weird 'gooseneck' kettles or been staggered at the concentration levels of the frowning barista. It's fair to say it can seem a bizarre beast at first glance.
The term 'pour over' is used to describe a wide range of methods. The common factor is that that all brew using 'percolation'. James Hoffman's book, 'The World Atlas of Coffee', is generally accepted as a barista's bible. He describes percolation as "water passing through a bed of coffee, extracting flavor along the way".
Pour over coffee seems to date back to 1908 when the German, Melitta Bentz came up with the idea of using paper filters and a cone to drip water through. With people looking for a quick fix, the idea fell out of favour before staging a resurgence in artisanal coffee shops where people began caring more about coffee origin and production methods. This is considered the 'third wave' of coffee (the 'first wave' being the rise of mass production and 'second wave' when modern coffee shops became commonplace).
There are a number of theories about what sparked the pour over revival. Independent shops and roasters began trying to differentiate themselves from chains by looking for specialist beans. Customers could learn more about where their beans came from and start to take a real interest in the regional flavor variations. From that perspective, pour over offers unique advantages.
Coffee Gator make home brewing products and their founder, Phil Williams, has this to say: "Pour over is a process that produces a consistently delicate flavor, compared to espresso, for example, which is brewed under pressure and heat which gives bitter results. Pour over is a more delicate process with much less flavor-loss. It does requires a certain amount of patience but it's about taste first, ritual second and perhaps a dash of theatre third."
Although the popularity of pour over certainly began in coffee houses, it's been quickly adapted to home use.
Williams goes on: "The equipment is inexpensive , so low entry costs help. It's a method that appeals to a generation who have embraced the DIY movement. They're happy to have a method that allows for experimentation with water temperature, grind size and exposure time until they find their perfect formula."
Coffee Gator has witnessed the surge in appreciation for coffee and the demand for home-brewing equipment first hand. Their 27oz pour over coffee maker has quickly become one of the company's most popular products.
"People seem to love the simple ritual of the pour. It's a bit like giving birth - once you've poured yourself a beautiful hand drip coffee, you love it like a first born child", says Williams. It's sometimes hard to tell if the man is joking, serious or just plain weird.
The Coffee Gator offering to pour over fans is a glass carafe with a reusable stainless steel filter that eliminates the need for disposable paper filters. They also supply coffee canisters, gooseneck pour over kettles with in-built thermometers and a cold-brewer (among other coffee-related products).
They began trading in 2015 and it's clear they like to do things differently. Care instructions for one of their products reads 'keep away from children, pets and the butter fingered'.
Their new pour over brewer is available on Amazon now. It retails at $26.97 but readers can get 15% off by using the code POUROVER at checkout. There's a 100% money-back guarantee on all Coffee Gator products, promising a full, no-questions-asked, refund if there's any problem. Check the Coffee Gator video on how to make pour over coffee.