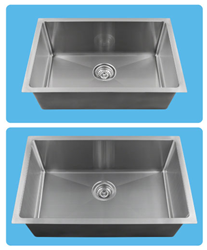 Both new models will be available in all three thicknesses: standard 18, as well as heavy-duty 16 and 14 gauges.
Toledo, OH (PRWEB) May 03, 2017
Once again, the ever-popular, ¾″ radius line of MR Direct kitchen sinks is making headlines. Initially introduced as a distinctive line of five stainless steel sinks with tight, curved corners; each basin was constructed in the industry-standard 18-gauge. Recently, however, MR Direct made them available in a 25% thicker, 16-gauge; and a 50% thicker, industrial-grade, 14-gauge. These upgrades were very well received, but demand for more continued. Today, MR Direct is answering the call by proudly announcing that two new models are being added to this line, and both will be available in all three gauges.
The new 2920S model will fill the size gap existing between the 3120S and the 1823 basins. The interior of its single bowl measures: 26 1/8″ x 15 7/8″; with a 9 3/8″ depth, slightly exceeding the current models' 9″ reach. As with all ¾″ radius sinks, the walls are straight and the corners tight; but slightly rounded for cleaning convenience and high style. This model is designed for those smaller kitchens or work areas with limited space.
The new 2620S is a smaller, square option offering the most depth of any of these sinks at a full 10 1/2″. Its interior measures: 16″ x 16″. Like all the ¾″ radius sinks, it has subtle grooves in its base to channel water to the offset drain. Though modest in size, this sink offers maximum volume due to its linear design and extra depth.
Both new models will be available in all three thicknesses: standard 18, as well as heavy-duty 16 and 14 gauges. Matching the other models in this collection, they are constructed of superior 304-grade stainless steel. This assures they will stand up to a reasonable amount of abuse. Even in the lighter weight, a dropped dish will not chip it; a spilled glass of wine will not stain it; and any foul-odors of debris left in it will not linger. Further, sound dampening pads on the exterior diminish any noise, while a sprayed-on undercoating prevents condensation.
All ¾″ radius sinks are designed to be mounted under the counter in a contemporary display. No matter the model or weight, the ¾″ radius sinks are a stylish and practical choice. All MR Direct sinks, faucets, and accessories can be viewed by visiting http://www.MRDirectint.com.
Contact: Paul Best
paul(at)mrdirectint(dot)com
MR Direct International
(419) 841.1820