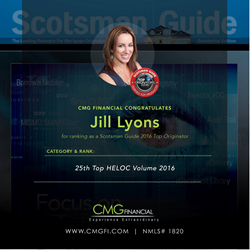 Jill uses her extensive product knowledge to find the best loan for her customers. With the unique features of CMG's All In One loan she has an opportunity to offer a loan that is unique to the industry.
San Ramon, CA (PRWEB) May 09, 2017
CMG Financial congratulates Jill Lyons, senior loan officer, San Ramon, California, for ranking as a Scotsman Guide 2016 Top Originator. Lyons was ranked 25th for Top HELOC Volume 2016.
Lyons has worked in the mortgage industry for more than 25 years, with a total of 16 years at CMG Financial. She has held numerous positions, including mortgage advisor, mortgage sales trainer and manager, certified FHA specialist and certified mortgage planner. She is well-versed in various types of mortgage financing and refinancing and works as a mentor for new loan officers. She is one of the nation's leading providers of CMG Financial's "All In One" HELOC loan, which allows consumers to combine their checking and mortgage accounts, which can accelerate the payoff and reduce the amount of interest paid. She stays up-to-date on the nuances of the changing mortgage environment, such as loan program enhancements and interest rate variables, to help her clients make informed financial decisions.
In her current role as senior loan officer at CMG Financial, she works out of the San Ramon office and originates loans across the country. Currently, Lyons is licensed in Arizona, California, Colorado, Florida, Hawaii, Idaho, Illinois, Iowa, Louisiana, Maine, Michigan, Montana, Missouri, Nevada, New Mexico, Oregon, Tennessee, Texas, Virginia, Washington, and Wyoming. She is also a Utah lending manager. Her sizable production volume has earned her membership in CMG Financial's President's Council and Chairman's Club.
"Jill uses her extensive product knowledge to find the best loan for her customers. With the features of CMG's All In One loan she has an opportunity to offer a loan that is unique to the industry," said Charlie Rogers, SVP of Retail Lending
###
About CMG Financial
CMG Financial is a well-capitalized, privately held mortgage-banking firm founded in 1993. The company makes its products and services available to the market through three distinct origination channels: retail lending, wholesale lending, and correspondent lending.
CMG Financial currently operates in 49 states, including the District of Columbia, and holds federal agency lending approvals with HUD, VA, RHS, GNMA, FNMA, and FHLMC. Throughout the mortgage banking and housing markets, CMG Financial is widely known for its responsible lending practices, industry and consumer advocacy, product innovation and operational efficiency.
For more information about CMG Financial, please visit http://www.cmgfi.com. CMG Financial NMLS# 1820. Jill Lyons NMLS# 206346
About Scotsman Guide
Scotsman Guide Media Inc. publishes a residential edition and a commercial edition of Scotsman Guide, in addition to Scotsman Guide News, Loan Post, Scotsman Guide Community and other platforms at ScotsmanGuide.com. Scotsman Guide, the leading resource for mortgage originators, releases an annual Top Originators ranking, in which top originators are ranked among entries from nearly 3,000 mortgage professionals across the country. To be eligible for initial consideration in Scotsman Guide's Top Originators rankings, originators must have had at least $40 million in loan volume or 100 closed home loans during the previous calendar year. After receiving submissions, Scotsman Guide required written verification of top entrants' volume data from a certified public accountant, the chief financial officer at the originator's company or a similar source. The list, which ranks the nation's top mortgage producers, recently appeared in Scotsman Guide's April 2017 residential edition; the rankings are available online at http://www.ScotsmanGuide.com/Top2016.