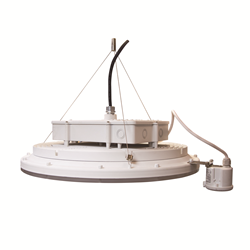 Chicago, IL (PRWEB) May 01, 2017
ALSET® LED, a fast-growing brand in the LED segment, has just announced a whole new range of led fixtures and retrofits. To be showcased at the upcoming Lightfair 2017 on May 7-11 in Philadelphia, the innovative and energy-efficient lamps and fixtures promise to offer incredible energy saving opportunities for commercial lighting market.
The new products include:

Linear High Bay: Used for general purpose lighting for commercial and industrial locations such as warehouses and larger retail locations.
Retrofit Products: Offers efficient LED technology without needing to install a complete new fixture
New Parking Lots: New Dark Sky Compliant with the ability to add lighting controls
Highbay/lowbay additional options: Daylight harvesting, battery back- up and up light all available.
Lensed Strip/Wrap options: Flexible lighting solutions for warehouses, factory settings, institutional and retail applications with the ability to add fixtures for continuous runs. They also offer built in occupancy sensing and offer emergency battery back-up operation.
According to Cindy Thomas – GM-Sales, ALSET® LED, "This will be our third LFI show, and we are excited to showcase the innovative new range for our agency and distribution partners. Intense focus is given to quality, and we believe that these new products will surpass the success we have with our DLC premium-listed, NSF rated round high bay that has been specified into national retail programs, large commercial and industrial applications.
Along with Cindy, all five regional sales managers will be in the booth along with a team of engineers. The company is on a robust growth path and expect to add the rising number of agency partners and distributor representation. All new products are now available in the $6 million-dollar inventory located in suburban Chicago location. ALSET® LED will be located at booth # 5755.
ALSET® LED line aims to deliver major energy saving opportunities by using the latest technologies. The goal is not just to help users save on their energy bills but also help reduce their carbon footprints at the same time.
About ALSET® LED
ALSET® LED is a modern and innovative line of light bulbs and fixtures. Keeping in line with the NuWave principle – Live Well For Less, all Alset products offer the best of energy saving options. Like all other products under this umbrella brand, they too are synonymous with innovative and latest technologies, ALSET® LED lamps, troffers, canopies, highbays, T-8 retrofit tubes and downlights are known for their high efficacy, instant-on feature, and their superior heat management. To learn more, please visit http://www.alsetled.com/
About NuWave LLC
NuWave LLC has led the market in advanced and innovative countertop kitchen appliances. The flagship product, NuWave Oven, was launched in 2002 and quickly became the No.1 countertop oven in the world. Since then it has introduced the NuWave Precision Induction Cooktop and the NuWave non-stick cookware line, Duralon™ Cookware and the very popular NuWave Brio air fryers. For more information about the company and products, please visit http://www.nuwavenow.com/