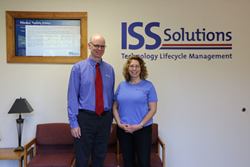 (PRWEB) May 02, 2017
ISS Solutions, a Geisinger business and leading provider of customized technology lifecycle management solutions to healthcare, government, education, and commercial clients throughout the United States, Canada, and Australia, announced today ISS Solutions' and Geisinger's acquisition of Paradigm Technology Consulting, LLC (PTC) of Allentown, NJ. PTC will continue to be run as an independent business led by current PTC President Bridgette A. Hobart Janeczko, CPA, MS, CITP, who will also become a member of ISS Solutions' executive team.
Peter Brooks, CEO of ISS Solutions, stated, "I admire Bridgette's entrepreneurial spirit, long-term client relationships, and can-do attitude. Immediately after meeting Bridgette for the first time about one year ago, I knew that she – with her enthusiastic, open, and honest approach – would make a great addition to our team. Key to the decision to acquire PTC was ISS Solutions' desire to expand more rapidly the number of enterprise application solutions we provide our clients. We've had our eye on Microsoft Dynamics for a while and were glad to find a company with deep expertise in developing, customizing, and delivering Microsoft Dynamics-based solutions." Mr. Brooks further expanded, "Key to finalizing the new Geisinger ownership structure for PTC was allowing PTC to maintain its independence in pursuing existing technology development plans and service delivery methodologies. I'm also pleased to announce that the entire staff has agreed to remain with PTC, so the transfer will be smooth for clients and employees alike."
Ms. Hobart Janeczko also sees significant upside to joining the Geisinger and ISS Solutions families. "My first concern when considering any acquisition is culture. And I'm convinced that there's a good match culturally between PTC and ISS Solutions. Beyond that, since PTC has had some focus on healthcare in general and behavioral health in particular, becoming a part of the larger Geisinger organization is also a good fit. We look forward to working as a team to continue our tradition of strong client services."
With the expanded resources behind her, Ms. Hobart Janeczko will be able to devote even more time to working with PTC clients.
About Paradigm Technology Consulting
Paradigm Technology Consulting (PTC) is a Microsoft Gold certified partner that has been helping clients fulfill their business management and information technology needs since 1999. PTC's broad experience includes working with a range of enterprise resource planning, accounting, and customer relationship management solutions. With functional teams in applications consulting, software development, and systems engineering, PTC focuses on delivering Microsoft Dynamics GP and Dynamics 365-based solutions. Given the broad range of technical skills and depth of knowledge in business processes and accounting, PTC is uniquely qualified to assist clients in specific areas or to provide comprehensive solutions from strategy through implementation. For more information, visit http://www.ptcllc.com.
About ISS Solutions
ISS Solutions, a Geisinger business, is a leading provider of customized technology lifecycle management solutions to healthcare, government, education, and commercial clients. For over 40 years, ISS Solutions has collaborated with more than 200 clients to deliver integrated business solutions, which include healthcare technology assessment, management, and maintenance services; information technology assessment, network design, management, acquisition, and maintenance services; and a 24 x 7 technical service desk. ISS Solutions is headquartered in Langhorne, Pennsylvania and operates in and serves clients throughout the United States, Canada, and Australia. For more information, visit http://www.ISSsolutions.com.
About Geisinger
Geisinger is an integrated health services organization widely recognized for its innovative use of the electronic health record and the development of innovative care delivery models such as ProvenHealth Navigator®, ProvenCare® and ProvenExperience®. As one of the nation's largest health service organizations, Geisinger serves more than 3 million residents throughout 45 counties in central, south-central and northeast Pennsylvania, and also in southern New Jersey at AtlantiCare, a Malcolm Baldrige National Quality Award recipient. In 2017, the Geisinger Commonwealth School of Medicine became the newest member of the Geisinger Family. The physician-led system is comprised of approximately 30,000 employees, including nearly 1,600 employed physicians, 12 hospital campuses, two research centers, and a 551,000-member health plan, all of which leverage an estimated $10.5 billion positive impact on the Pennsylvania and New Jersey economies. Geisinger has repeatedly garnered national accolades for integration, quality and service. In addition to fulfilling its patient care mission, Geisinger has a long-standing commitment to medical education, research and community service. For more information, visit http://www.geisinger.org.