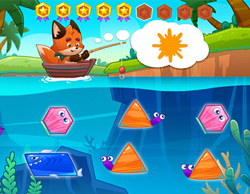 Go Fishing will be a huge hit among for early learning centers!
New York, NY (PRWEB) May 02, 2017
The US-based tech company EyeClick has completed development of Go Fishing, the first in a series of academically-focused games that will be designed exclusively for educational learning centers. The new series of educational games—beginning with Go Fishing—will be built for the company's flagship interactive gaming platform, BEAM.
"The potential of BEAM to become an educational platform was built in from the start," said Ariel Almos, CEO and founder of EyeClick. "The interactive nature of BEAM allows early educators a chance to teach in a virtual environment that's both fun and exciting for children."
Go Fishing will teach children the basics of colors and shapes. Children will control a fox avatar in a fishing boat, using their hands or feet to hit the correct color or shape of fish swimming beneath the water. Successful answers will earn children points as well as praise from the avatar aboard the boat.
The game is scheduled for release on Friday April 28th, 2017. Subscribers to BEAM will have immediate access to it from day one. New games in the BEAM educational series will be available as they're released.
"We've seen a ton of interest from early learning centers for more academically-minded games," said Almos. "They love how interactive BEAM is, love the physical nature of it, and can't wait to get their hands on new games that are tied to academic objectives such as learning colors, numbers and shapes. And we think Go Fishing will be a huge hit among these educators."
Please contact Paul Zonis at 914.219.0279 for more information about BEAM, EyeClick, and this press release.