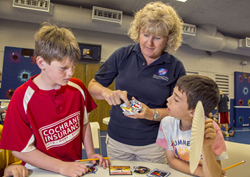 "I was drawn to the forward-thinking leaders of The Greene School" says Ebelt
West Palm Beach, FL (PRWEB) May 01, 2017
The Greene School is delighted to announce the engagement of Kaye Ebelt as Mathematics and Science teacher for the Fifth and Sixth Grades. Ms. Ebelt is an Albert Einstein Distinguished Educator Fellow at the National Science Foundation; is an inducted member of the Space Foundation Teacher Liaison Program; recently was awarded Montana's Gifted and Talented Teacher of the Year and recognized as finalist for the Presidential Award for Excellence in Math and Science Teaching, the highest honor for a teacher in the United States. Originally from Montana, Ms. Ebelt has taught in progressive schools such as the Target Range School in Missoula, Montana and at the Virginia Tech Innovation Center in Falls Church, Virginia, where she pioneered a course titled, Engineering Design and 3D Printing and taught educators and non-educators. Kaye Ebelt has been following The Greene School since the beginning. "I was drawn to the forward-thinking leaders of The Greene School," says Ebelt, "and that the students have the opportunity for a cutting-edge education." In addition to her teaching career, Lieutenant Colonel Ebelt is the Rocky Mountain Region Civil Air Patrol Chief of Staff in Aerospace Education. Gliding is her passion and she will soon be a member of the Treasure Coast Soaring Club. She has a Master of Education with an emphasis on computer sciences from Lesley College in Cambridge, Massachusetts and a Master of Science in Science Education with an emphasis in physics, geology and astronomy from Montana State University in Bozeman, Montana.
The Greene School is located at 2001 South Dixie Highway, West Palm Beach, Florida. For more information, visit http://www.thegreeneschool.com, or call (561) 293-2888. The Greene School is presently accepting applications for Pre-K through Sixth Grade students. Watch this video and learn what parents say about The Greene School: https://youtu.be/l8uqeyqwqlo.
ABOUT THE GREENE SCHOOL: The Greene School curriculum has been specifically designed for bright, curious and joyful learners. Our core academic program consists of Literacy, Math, Social Studies, Science and Foreign Language, and is combined with our broad enrichment program of Visual Arts, Music, Computer Science, Engineering, Coding, Robotics, Fitness and Wellness, Yoga, Dance, Meditation and Mindfulness. The Greene School's cross-curricular approach encourages critical thinking, creativity, communication, collaboration and compassion, and provides our students with the education and tools necessary to prepare them for a dynamic world. Students whose academic needs go beyond the existing advanced curriculum are able to accelerate further, by subject or by grade. Our teachers personalize students' learning to ignite and sustain their passion for knowledge. Through an inquiry-based classroom environment, Greene School students become engaged, motivated and lifelong learners.