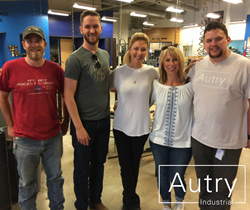 "Autry Industrial seeks to challenge status quo by looking at what has been long taken as standard and turning it upside down," Anne Marie Sullivan, Autry Industrial Vice President of Operations.
Austin, TX (PRWEB) May 02, 2017
According to the Palmer Drought Index, since the end of February, 2017, about 14.2% of the contiguous United States is classified as experiencing moderate to exceptional drought with 4% categorized as suffering from severe to extreme drought. Drought levels in many other parts of the world are worse than they have been in a long time including: Africa, parts of Asia, the Caribbean and Brazil, for example. Fresh water supply will continue to be an issue that plagues our country and countries around the world. No matter your views on global environment predictions, it is certain that water conservation is necessary worldwide.
Industry uses a large portion of the total global water usage, and power generation and data centers combined account for a huge percentage of industrial use. Massive amounts of water is used for cooling power generation plants and data centers every day. "Electrical power production uses more water than any other single industrial process," according to IEEE Spectrum. Cooling for U.S. power plants alone requires 161 billion gallons, or 45% of total U.S. freshwater withdrawals, per day.
Autry Industrial's Cycle Two73 provides a completely innovative solution to eliminate the use of water for industrial cooling. There are other dry cooling systems, but these are highly inefficient and drive plant energy costs up. Cycle Two73 uses waste heat to completely power itself and even gives energy back to the facility. With its unprecedented energy conservation potential, it's independence of consumable resources, and the flexibility to be implemented where competing technologies simply cannot fit, Cycle Two73 is poised to change the landscape of industrial cooling. The combined water and energy savings makes Cycle Two73 a powerful green alternative to current cooling technologies.
Cycle Two73 is the brainchild of Garret Autry, the Founder and current CTO of Autry Industrial. While working in a power plant, Garret was struck by the irony of the massive waste of water and energy simply to cool a system that is run to produce energy. Determined to find a logical solution, Garret spent six years developing Cycle Two73. The technology has wowed industry giants and is making great strides to change the way industry looks at cooling.