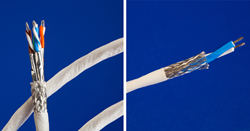 Landenberg, PA (PRWEB) May 01, 2017
W. L. Gore & Associates, Inc. (Gore) is pleased to announce that Schleuniger, a leading international manufacturer of wire processing equipment, will showcase Gore's high data rate cables for military and civil aircraft applications at the 2017 Electrical Wire Processing Technology Expo in Milwaukee, WI, May 10-11, Booth 1732.
Schleuniger wanted to demonstrate the aerospace industry's latest high data rate cables in their equipment at the expo. Specifically, they chose GORE® Aerospace Ethernet Cables for Cat6a protocol that deliver excellent electrical and mechanical performance in a small, lightweight, flexible and routable package. They also chose GORE® Shielded Twisted Pair Cables that are highly flexible and easy to route in confined spaces of any aircraft because they are significantly smaller and lighter compared to standard cables.
Gore's high data rate cables meet the latest protocols and system requirements such as Ethernet, Fiber Optics, USB, HDMI, and more. Cable designs that are smaller, lighter and more flexible with longer transmission lengths significantly improve system performance in any aircraft.
Visit gore.com/highdatarateaircraftcables to find out more about Gore's portfolio of high data rate cables that are engineered to perform reliably now and over time. Visit schleuniger-na.com/wpte for more information on Schleuiniger's participation in the 2017 Electrical Wire Processing Technology Expo.
About W. L. Gore & Associates, Inc.
Gore is a technology-driven company focused on discovery and product innovation. Well known for waterproof, breathable GORE-TEX® fabric, the company's portfolio includes everything from high-performance fabrics and implantable medical devices to industrial manufacturing components and aerospace electronics. Founded in 1958 and headquartered in Newark, Delaware, Gore employs more than 10,000 associates with manufacturing facilities in the United States, Germany, the United Kingdom, Japan and China, and sales offices around the world. Gore is one of a select few companies to appear on all of the U.S. "100 Best Companies to Work For" lists since the rankings debuted in 1984. The company also appears regularly on similar lists around the world. Learn more at gore.com.
About Schleuniger
The Schleuniger Group in Thun is a globally active technology company and a leading supplier to the wire processing industry. Most of the Schleuniger Group's customers are active as suppliers for the automotive, entertainment, and information industries as well as for the communications sector. Schleuniger's products are used whenever precise contact connections play a role. The company has development and production locations in Switzerland, Germany, and China. Thanks to its four sales and service companies, in the US, Germany, China and Japan, and 40 distributors worldwide, Schleuniger is always in close proximity to its customers.
The Schleuniger Group represents the wire processing business segment of the publicly listed Metall Zug Group and has approximately 640 employees and 30 apprentices worldwide.
GORE, GORE-TEX and designs are trademarks of W. L. Gore & Associates.