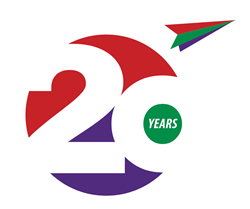 Digital marketing and the web have allowed small businesses to compete against global corporations and win. It's the modern retelling of David and Goliath.
PORTLAND, MAINE (PRWEB) May 02, 2017
"Internet years are like dog years," says Rich Brooks, flyte new media's founder and president. "For any small business, reaching your 20-year anniversary is a big deal. When your industry reinvents itself as often as ours does, a twenty-year run feels like much more."
flyte started in Rich's apartment in Jamaica Plain, Boston, in 1997. Few people at the time were using the web, and those who were used a dial-up modem and Netscape Navigator to view static web pages on an 800 x 600 pixel monitor. Yahoo! was just getting started, social media didn't yet exist, and AOL's CD-ROMs clogged mailboxes across the country. In 1999, when Rich moved the business to Portland, Maine, Google's search engine was in beta and everyone wanted candy-colored iMacs. The internet was taking off—and flyte rapidly gained altitude right along with it.
The past two decades have seen tremendous changes in the technology we use and how we use it, and few companies have helped Maine businesses navigate and profit from these changes like flyte. The company has grown and evolved into a full-service digital marketing agency known for web design, search engine optimization (SEO), social media, email marketing, and so much more. "With so many moving parts to a successful digital marketing strategy, it takes an entire team to make it come together," Rich says.
That team—the "flyte crew"—consists of expert designers, developers, copywriters, and marketers that help companies and organizations like Sabre Yachts, Royal River Natural Foods, and the Maine Small Business Development Centers find and engage their customers online. Flyte has launched over 500 websites, and for each one of those projects the flyte crew has had to quickly master something totally new.
Besides running flyte, Rich has also spent his time advocating the importance of digital marketing for Maine's small business community. His annual digital marketing conference, The Agents of Change, has brought the industry's biggest names to Portland, Maine for over five years. Rich makes regular appearances as a technology expert on WCSH 6's 207 and recently returned from the world's largest social media conference, Social Media Marketing World, where he shared the secrets of creating digital marketing plans with a standing-room-only audience of over 700 attendees from around the world. He also shares his expertise with thousands of followers on Facebook, Twitter and YouTube and through his popular podcast. He's capped off this incredible year by collecting his experience and insight in a brand-new book, The Lead Machine: The Small Business Guide to Digital Marketing, currently available on Amazon and local bookstores here in Maine.
Talking with Rich about the evolution of web design, social media and content marketing over the past 20 years is a like a virtual local history lesson filled with humor, insight and energy. After all, helping others understand the web and make it work for them is what he does best. "I love that our 20th anniversary coincides with National Small Business Week," Rich says. "We've been part of the growth of so many amazing companies, organizations and nonprofits. That's how we gauge our own success—how our clients are doing. Our clients are amazing, and I can't wait to see what the next 20 years will bring."