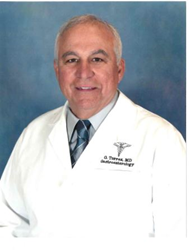 Miami, Florida (PRWEB) May 02, 2017
Gastro Health, LLC ("Gastro Health") has acquired the practice of Orlando Torres, M.D., located at 4791 West 49th Street, one of the leading gastroenterology practices in Hialeah, FL. The procurement is Gastro Health's 26th South Florida location and first in the City of Hialeah.
Established in 1984, the private gastroenterology practice led by Dr. Torres will continue providing the excellent care that his patients have come to expect. Dr. Torres received his Doctor of Medicine degree at the University of Valladolid in Spain, completed his internship in internal medicine at Montside Hospital in New Jersey, and his fellowship in gastroenterology at Tulane University in Louisiana.
Patients also have access to Dr. Torres' experienced health care management team. Pedro Gonzalez is a licensed physician assistant who is proficient in gastroenterology, internal medicine and infectious diseases. Isel Gonzalez is an Advance Practice Registered Nurse (ARNP) who completed a gastroenterology fellowship and her Master's Degree in Nursing. Dr. Torres and his staff are fluent in English and Spanish.
"Dr. Torres is a highly skilled doctor who has built an excellent practice along with a staff that truly takes pride in providing their patients with the best care possible," said Alejandro Fernandez, CEO of Gastro Health. "By partnering with his practice, Gastro Health looks forward to providing high quality gastroenterology care to the Hialeah community."
As part of Gastro Health's network, Dr. Torres and his team will have additional resources available to the practice, allowing them to continue to offer patients with safe and affordable gastrointestinal care. All of Gastro Health's care centers are equipped with the latest state-of-the-art technology to ensure the best outcomes possible for each individual patient.
"We are pleased to become part of Gastro Health, which is one of the most recognized provider groups of gastrointestinal care in the United States," said Dr. Torres. "With access to greater resources and ancillary services, it's ultimately our patients who benefit most from this partnership."
For more information about Gastro Health, visit http://www.gastrohealth.com. To schedule an appointment with Dr. Torres, call 305-825-0500.
Press Contact:
Joanna Palmer
JPalmer(at)GastroHealth(dot)com
(786) 456- 8677
About Gastro Health
Gastro Health, founded in 2006, is South Florida's largest, private gastroenterology network comprised of over 60 physicians in 26 locations. Gastro Health provides patients access to some of the nation's premier gastroenterologists, pediatric gastroenterologists, colorectal surgeons, and allied health professionals. In addition to delivering gastrointestinal care, providers offer a wide range of additional services including: anesthesia, infusion, imaging, pathology, specialty pharmacy and in-office RX dispensing. Gastro Health is dedicated to its mission to provide outstanding medical care and an exceptional health care experience for patients.