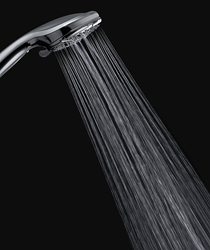 The AquaBliss is exactly what I was looking for. We purchased one for one of our three bathrooms and loved it so much we purchased two more. The 6.5 foot hose and multiple spray patterns are great for showering and cleaning the shower - R. Hogan
(PRWEB) May 03, 2017
MAY 3, 2017 - AquaBliss is pleased to announce that they have upgraded their shower set to include a brand new feature. The AquaBliss Refresh Handheld Shower Head Set now offers a water saving pause mode, which is the set's sixth function.
The Refresh Handheld Shower Head Set already features saturating mist, mist, pulsating mist, drenching rain, and invigorating massage settings. Now, the water saving pause mode offers users a brand new way to enjoy their shower head set.
AquaBliss is a premier family-owned and operated company offering elegant, modern bathroom accessories and fixtures. The company already offers a range of luxury quality shower filters and more, and in an effort to continuously offer the best customer experience possible, the team at AquaBliss made the decision to upgrade one of their already existing products.
The AquaBliss Refresh Handheld Shower Head Set is a durable yet lightweight hand shower featuring an ergonomic handle and 6.5 foot flexible stainless steel hose. Designed for convenience and ease of use, the AquaBliss Refresh Handheld Shower Head Set can be installed without any tools. With its universal connections, it is designed to work with all standard threaded shower arms and shower filters. A roll of plumbers tape is included at no additional charge.
The shower head set was also made for efficiency. The AquaBliss team made the shower head set to work well with both high and low water pressure, and the set features an anti-clog nozzle to eliminate the risk of hard water build up.
One recent customer said, "I love this shower head! I needed something to connect to my existing shower arm. There are many products out there…but I kept reading negative reviews complaining of diminished water pressure and leaks. Everyone who bought this AquaBliss product said that neither were an issue, and most raved about water pressure…It's true."
The AquaBliss team is excited to offer a new feature on one of their best selling products. Amazon customers can shop for AquaBliss products, and currently, the company is offering an exclusive 20% off discount when they purchase with discount code HS300PR1.
To find out more about Aquabliss and their product range, visit http://www.AquaBliss.com or like the AquaBliss page on Facebook to join the growing community of shower enthusiasts that receive exclusive bathroom information and tips.