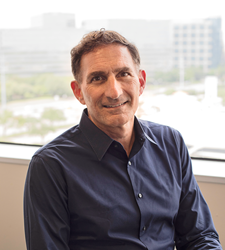 Dallas, TX (PRWEB) May 03, 2017
Pursuant, a full-service fundraising agency serving nonprofit organizations, welcomes Andy Goldsmith as senior vice president, creative director. Andy brings a passion for brands and an uncommon combination of expertise from both the for-profit and for-purpose worlds to his new role at Pursuant. He has over thirty years of leadership experience within advertising and marketing.
Andy has made a career out of cultivating teams, partnerships, and relationships that let creativity flourish. At Pursuant he will provide leadership to a talented creative team and help ensure that donor insights and ideas are channeled into distinctive stories that move people to action.
"When I look at Pursuant I see an agency that lives up to the promise of 'better results through insights.' With the bombardment of brand messages we all see every day, there's a huge premium on being relevant. At Pursuant we've embraced the idea that people will stop and listen to a story that connects with their needs and values, so our goal is to truly understand what interests them and motivates them. And then deliver the kind of targeted message that moves them to action and connects supporters with the brand's purpose," said Goldsmith. "I'm excited to join a team that is at the forefront of this kind of work. Our goal is to do top-flight work that lives at the intersection of creative intuition and data-driven engagement."
Prior to joining Pursuant, Andy was a principal architect of the American Cancer Society's (ACS) widely praised "Official Sponsor of Birthdays" brand platform that transformed the way ACS engages with new and untapped audiences. In addition, Andy oversaw strategy and creative for the ACS' integrated creative and marketing team, where he learned to navigate and succeed within a complex business environment.
Before joining the ACS, Andy's career included roles at The Baron Group, a consultative sales training firm, as well as long stints at several successful independent advertising agencies including T.G. Madison Advertising. As executive vice president of account management at T.G. Madison, he was charged with the continuous development of the agency's strategic branding and advertising capabilities across financial services, insurance, professional sports, and technology accounts.
"I'm very pleased to welcome Andy Goldsmith to Pursuant," said Pursuant CEO Trent Ricker. "Andy's approach to storytelling is grounded in a deep partnership with data and insights. This approach led to remarkable success for the More Birthdays campaign he helmed at the American Cancer Society. Now, Andy is stepping in to lead our award-winning storytelling team and we're thrilled to have someone of his caliber to take our creative to the next level."
Andy's background as a strategic and creative leader has resulted in industry recognition, including a National Bronze Effie Award and PRSA Silver Anvil Award, both for the American Cancer Society; numerous Addy Awards; and speaking engagements at the Brand Strategy Summit, the American Marketing Association, the Association of National Advertisers, and the Association of Fundraising Professionals
Andy has a BA from The College of William and Mary, and an MBA from Georgia State University.
The Pursuant Group (http://www.pursuant.com), based in Dallas, Texas, exists to inspire passionate people to change the world through great causes. We empower nonprofit leaders to deliver on their mission by more effectively connecting resources to vision. Pursuant is the only technology-enabled, data-driven, full-service fundraising firm dedicated to helping nonprofits experience fundraising success. Founded in 2001, Pursuant partners with health and human service organizations, educational institutions, athletic programs, hospitals, faith-based organizations, and churches to impact lives through intelligent data, proven strategies, and award-winning creative to grow and sustain revenue. Visit us at http://www.pursuant.com to help you achieve your fundraising goals.