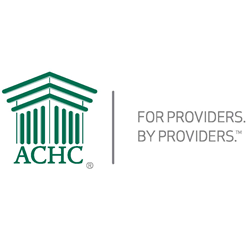 Cary, NC (PRWEB) May 01, 2017
Accreditation Commission for Health Care (ACHC) is excited to launch its newest accreditation distinction program – Distinction in Palliative Care. Over the past 12 months, ACHC has worked with a committee of hospice and palliative care providers, facilitated by Judi Lund Person, Vice President of Regulatory and Compliance for the National Hospice and Palliative Care Organization (NHPCO), to develop the industry's first Distinction in Palliative Care standards based on the National Consensus Project's Clinical Practice Guidelines for Quality Palliative Care.
"ACHC is grateful for the guidance of Judi Lund Person and for the input from the committee of providers who helped to form these standards that will lead to enhanced quality of patient care," said Teresa Harbour, ACHC Director, Home Health, Hospice and Private Duty. "We hope that this new Distinction in Palliative Care will help provide agencies with a framework to create palliative care programs based on the industry's highest quality standards."
On March 21, 2017, ACHC granted its first Distinction in Palliative Care to Mountain Valley Hospice and Palliative Care, whose hospice program has been ACHC-accredited for nearly 10 years.
"Achieving this distinction from ACHC for our Palliative Care Program is a milestone for Mountain Valley Hospice and Palliative Care," said Denise Watson, Executive Director. "The accreditation process strengthened the foundation of our program and embedded service-based interdisciplinary standards that now serve as guiding principles for providing exemplary care to those we serve. We are proud and encouraged by this accreditation distinction."
Mountain Valley Hospice began serving the community in 1983 and continues providing team-based hospice services to terminally ill patients and their families from its eight locations serving 17 counties in North Carolina and Southern Virginia.
ACHC provides Home Health, Hospice and Private Duty accreditation services that assess the organization as a whole, including business operations and patient care. Agencies seeking accreditation with a Distinction in Palliative Care must do so in combination with ACHC Home Health, Hospice or Private Duty Accreditation.
ACHC is a non-profit accreditation organization that has stood as a symbol of quality and excellence since 1986. The organization has CMS Deeming Authority for Home Health, Hospice, and DMEPOS and a Quality Management System that is certified to ISO 9001:2008. ACHC is the provider's choice for accreditation because of its personal Accreditation Advisors, relevant and realistic standards, competitive pricing, and a friendly, consultative approach to accreditation. Accreditation by ACHC reflects an organization's dedication and commitment to meeting standards that facilitate a higher level of performance and patient care.
For more information on ACHC Accreditation programs, or to download ACHC Distinction in Palliative Care Standards, please visit http://www.achc.org or contact customerservice(at)achc(dot)org or (855) 937-2242.