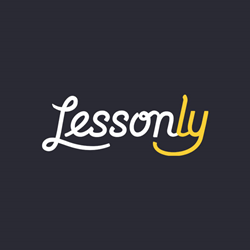 "Lessonly's learner-first philosophy is why we're making so many investments to help our customers capture feedback and act on it—quickly and effectively." — Max Yoder, Lessonly CEO
Indianapolis, Indiana (PRWEB) May 02, 2017
Lessonly, the leader in modern team learning software, today announced the launch of Lesson Ratings, a feature which enables immediate feedback on the learning content employees interact with every day. The new product feature makes it easy for employees to quickly give honest feedback to their managers and trainers, helping improve team learning content for better business impact.
"Learners are the largest constituency of any learning program, making their feedback crucial. If they don't feel that the content they're receiving is helpful, it's very unlikely they will return to it in their moments of need," said Lessonly CEO Max Yoder. "This learner-first philosophy is why Lessonly is making so many investments to help our customers capture feedback and act on it—quickly and effectively."
Lesson Ratings solicit feedback via a thumbs-up or thumbs-down vote following the completion of each Lesson. Employees can provide detailed comments to explain their rating and make suggestions for improvement. And managers and leaders can then view the feedback rating (percentage of positive or negative votes) on each Lesson to track employee sentiment toward their organization's learning content. Learning Ratings builds on Lessonly's continued focus on learner feedback, which also drove the launch of Ask the Expert and Collaboration features in the first quarter of 2017.
Lessonly has earned recognition as a top 3 corporate LMS on review site G2Crowd, as well as named a top 3 company culture by Entrepreneur magazine. Currently, the company is hiring in sales and engineering roles as they expand their presence in Indianapolis.
About Lessonly
Lessonly is modern team learning software used by over 650,000 learners at more than 350 companies to translate important work knowledge into Lessons that accelerate productivity. Sales teams across the world use Lessonly to reinforce best practices, accelerate rep performance, and close more deals. Support teams across the world use Lessonly to serve customers faster, drive consistent support, and elevate the customer experience. Follow Lessonly on Twitter at twitter.com/lessonly.
Learn more at Lessonly.com.
Follow us on Twitter at @Lessonly and like us on Facebook at facebook.com/lessonlyapp.