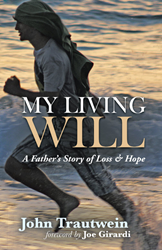 (PRWEB) May 08, 2017
According to Teen Help, there is a death by suicide in the United States every 12.3 minutes. Of these deaths, more than 1,000 are teenagers aged 13 – 18. What's more, the Center for Disease Control and Prevention says several families are shunned when they've lost a child to suicide.
John Trautwein, former pitcher with the Boston Red Sox, is all too familiar with the heartbreak and grief that comes with suicide. At age 15, his son, Will, took his own life, which left Trautwein and his family in complete shock. Trautwein discusses his grieving and healing process as well as offering inspiration for other families who have suffered similar losses in his new book, "My Living Will: A Father's Story of Loss and Hope."
"My Living Will: A Father's Story of Loss and Hope" tells the story of Trautwein and the unfathomable tragedy which occurred to him and his family when his 15-year-old-son, Will, committed suicide. Having shown no warning signs, signs of depression or anything of the sort, Trautwein and his family were left completely stunned and devastated. While grieving, Trautwein and his family were amazed at the outpour of support from their friends, family and "Life Teammates," as Trautwein says. It was through this support he received that Trautwein decided to take this tragedy and make it into something positive.
Shortly after losing his son, Trautwein, along with his wife, Susie, created the Will To Live Foundation, a 501 (c)(3) nonprofit foundation with the mission of spreading the awareness of teen suicide as well as to increase education around the stigma of mental health. The foundation has been featured on CNN, CBS, FOX Sports and more. Since the foundation's inception, Trautwein has given more than 100 speeches to parents, coaches and high school and college students alike.
"This outlet (the book) is a great way to get people to talk about the issue, which is the ultimate purpose of the Will To Live Foundation," said Trautwein. "Despite the devastating tragedy we went through, there was an incredible amount of inspirational things that happened to us."
"John Trautwein's story inspires hope," said Joe Girardi, manager of The New York Yankees. "It empowers people, and it gives its readers the 'hope for life.' Trautwein and Girardi have known each other for several years. They played baseball together at Northwestern University and Girardi wrote the foreword in "My Living Will."
To learn more about Will's story and The Will To Live Foundation, please visit http://will-to-live.org/.
"My Living Will: A Father's Story of Loss & Hope"
By John Trautwein
ISBN: 978-1-49085-972-9 (softcover); 978-1-49085-973-6 (hardcover); 978-1-49085-974-3 (electronic)
Available at WestBow Press, Amazon and Barnes & Noble
About the author
John Trautwein is a former pitcher with the Boston Red Sox. Trautwein is a graduate of Northwestern University, where he played college baseball prior to playing seven years in the Expos and Red Sox organizations. He is the president of Source Support Services, a global IT services company and currently lives in Johns Creek, GA with his family.
###
Review Copies & Interview Requests:
LAVIDGE – Phoenix
Chris Peña
480-998-2600 x 519
cpena(at)lavidge(dot)com
General Inquiries:
LAVIDGE – Phoenix
Kalin Batts
480-998-2600 x 524
kbatts(at)lavidge(dot)com