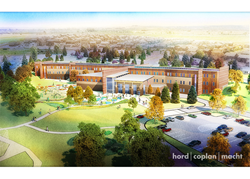 "This is a dream come true for me; I just can't wait," said Principal Teresa Benallo
Broomfield, Colo. (PRWEB) May 01, 2017
Adolfson & Peterson Construction (AP) – along with architecture firm Hord Coplan Macht (HCM) and Adams 12 Five Star School District – recently celebrated the groundbreaking of Anthem's newest P-8 facility. The school will feature a Learning Stair that connects the cafeteria to the main level, an open library concept with an upper level area for middle school students, an energy efficient mechanical system with ground source heat pumps, outdoor class rooms and a community garden.
Attendees of the groundbreaking ceremony included Laura Mitchell, Vice President of Adams 12 Five Star Schools Board of Education; Greg Stokes, Mayor Pro-Tem of the City and County of Broomfield; Maura Devine, President of Adams 12 Community Action Network (CAN); Teresa Benallo, Principal of Anthem P-8 school and Chris Gdowski, Superintendent of Adams 12 Five Star Schools.
"This is a dream come true for me; I just can't wait," said Teresa Benallo regarding her new position as the school's Principal. "Having preschoolers through eighth graders in one school gives us a wonderful opportunity to build a cohesive learning community where we will have solid school comradery and great school spirit together [with] meaningful, educational and engaging opportunities."
This new 119,000 square foot pre-kindergarten through eighth grade school, meant for 1,000 students, is located on a 13-acre site in the Anthem Community in Broomfield. Included in the site is a 3-acre shared neighborhood play field area for the community. The facility will feature a main entry level which will consist of the administration area, library and classrooms for pre-K and lower grades. The second floor classroom wing accommodates the upper grades and middle school. The lower level will contain the cafeteria, gymnasium and specialty classrooms with direct access to the play areas. The neighborhood park is adjacent to the school and will provide joint use of the fields. The project is pursuing CHPS Verified Leader certification.
The facility is funded by a $350 million construction bond which passed in November 2016. New classrooms constructed under the bond will address Anthem's classroom overcrowding and accommodate safety upgrades.
About AP
Adolfson & Peterson Construction (AP) is a U.S.-based, privately held builder that is consistently ranked among the top 50 construction managers and general contractors in the nation. Headquartered in Minneapolis, Minnesota, the company delivers innovative and collaborative building solutions for clients across the country from its regional offices in Charlotte, Dallas, Denver, Minneapolis and Phoenix. Founded in 1946, AP serves clients in the education, healthcare, commercial, municipal, multifamily, hospitality and senior living market sectors. For more information, visit http://www.a-p.com or follow us on Facebook, LinkedIn and Twitter.
About Adams 12 Five Star Schools
Located just seven miles north of downtown Denver, Adams 12 Five Star Schools offers more than 38,000 students and their families the benefits of a large district with a close-knit feel. That's reflected in the numerous opportunities for students, staff and parents at any of the district's more than 50 unique learning centers. The five stars represent the five unique communities the district serves: Broomfield, Federal Heights, Northglenn, Thornton and Westminster.
Adams 12 Five Star Schools is a caring, inclusive, and engaging district which exists so the students it serves can attain the knowledge and skills necessary to pursue the future of their choosing and are equipped to navigate and thrive in our rapidly changing world. The Five Star District's mission is to engage and inspire all students to innovate, achieve and succeed in a safe and supportive environment by ensuring high-quality instruction in every classroom, every day. To learn more, visit http://www.adams12.org.
About Hord Coplan Macht
Hord Coplan Macht is a full service architecture firm with offices in Denver, Baltimore, and Alexandria, VA. Their combined services include: architecture, landscape architecture, interior design, planning and sustainable design. The firm specializes in education environments, healthcare, senior living and care environments, multifamily, parks and mixed use projects. For more information, visit http://www.hcm2.com.