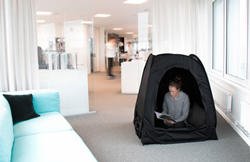 Fact is, we've never been as stressed as today. Being constantly connected, you deserve a pause.
Gothenburg, Sweden (PRWEB) May 01, 2017
Pause Pod, the revolutionary new personal private pop-up space that allows for private time anywhere, is live on Kickstarter and trending fast having topped their raise goal within only 24 hours.
In today's fast-paced and urban lifestyle, the Pause Pod is the world's first private pop up space for instant relaxation anywhere. The portable space pops up in seconds and users can either sit up or lie down to escape from the world wherever they're at. The Pause Pod provides an instant retreat for peace, relaxation, and peace of mind.
"After learning about stress the hard way, I truly came to realize the importance of taking time to recharge," says co-founder Adam Mikkelsen about the inspiration behind the project. "But I had a very hard time finding a place to do so since every room in my apartment and at the office was in some way related to stressful moments from the past."
The Pause Pod is made from a high-quality, light-reducing fabric. When zipped up it will block out approximately 99% of the light, meaning users will be able to relax in the dark no matter what time it is. While the fabric naturally is breathable, the three strategically placed ventilation openings along with the mesh door ensures a rich air flow when spending time inside of the Pause Pod. When users feel like laying down the leg compartment can be instantly folded out from the inside of the Pause Pod. For increased comfort, the width of the leg compartment is designed to fit any yoga/fitness mat. There is also a spacious pocket for storage of devices, books, and more.
"If you're not into meditation, it's quite unlikely that you'll get home from work and be like, 'I'm just going to sit here and stare into the wall for 10 minutes,'" adds co-founder Eric Calderon. "The Pause Pod reminds and invites you to take your time to recharge. I guess what we're doing is to democratize the Pause. Fact is, we've never been as stressed as today. Being constantly connected, you deserve a pause."
The Pause Pod is currently live and available to support on Kickstarter: http://kck.st/2oOc5JW
About Pause Pod
Pause Pod consists of a group of old friends from Gothenburg, Sweden making things that aims to improve your well-being. In short, we believe that if you're feeling good – you will do good. And that's something that are highly needed in today's society.
For more information on Pause Pod please visit http://www.pausepod.co
###