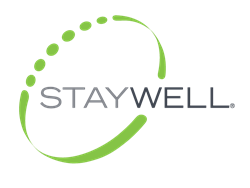 Yardley, PA (PRWEB) May 02, 2017
StayWell, a leading health solutions provider, announced today that it will showcase brand enhancement solutions — including print, digital and multimedia marketing solutions — during the 22nd Annual Healthcare Marketing & Physician Strategies Summit on May 8-10, 2017, in Austin, TX.
Health care marketers attending the show can stop by booth 38 to learn how StayWell's multi-faceted content solutions help hospitals and health systems attract and retain patients and build their brands. StayWell's long history of print content marketing is complemented by the organization's digital, interactive solutions, including licensable and custom video creation. StayWell's digital and print solutions are easily customized and integrated into a health system's operating infrastructure and used across departments and locations to support their unique brand and market.
"Patients are at the center of everything hospitals and health systems do, including how they market their services. Our solutions for health care marketers take a holistic approach with strong content at the core, combining digital, multimedia and print elements to help organizations reach patients through multiple channels and in ways that resonate with them as individuals," said Nicole Latimer, CEO, StayWell. "Ultimately, we help organizations leverage actionable content to build brands, acquire and retain health consumers, and empower them for success."
StayWell offers a comprehensive suite of patient education and engagement solutions that includes an extensive digital health library, health entertainment videos, and print magazines and calendars. Digital content solutions can be hosted by StayWell or integrated into an existing site to drive web traffic and appointments with interactive health quizzes, recipes, video and multimedia tools.
The Summit, presented by The Forum for Healthcare Strategists, is the leading conference for senior-level marketing, strategy, physician relations, sales and business development executives from hospitals, health systems, academic medical centers, integrated networks and medical groups. Visit StayWell at booth 38 or online at staywell.com to learn more.
###
About StayWell
StayWell is a health solutions company that uses the science of behavior change to help people live happier, healthier lives. StayWell brings decades of experience working across the health care industry to design solutions for improving individual and organizational health outcomes, managing the health of targeted populations, and creating brand engagement for employers and health care organizations. StayWell programs have received numerous top industry honors, including the C. Everett Koop National Health Award and the Web Health Award for health engagement programs. StayWell also has received URAC and NCQA accreditation for several of its programs. StayWell is majority-owned by Healthcare Services & Solutions, LLC, a wholly owned subsidiary of Merck & Co., Inc., Kenilworth, NJ, USA ("Merck"). The company is headquartered in Yardley, PA, and also has a major location in St. Paul, MN. To learn more, visit http://www.staywell.com.
About Merck
For more than a century, Merck, a leading global biopharmaceutical company known as MSD outside of the United States and Canada, has been inventing for life, bringing forward medicines and vaccines for many of the world's most challenging diseases. Through our prescription medicines, vaccines, biologic therapies and animal health products, we work with customers and operate in more than 140 countries to deliver innovative health solutions. We also demonstrate our commitment to increasing access to health care through far-reaching policies, programs and partnerships. Today, Merck continues to be at the forefront of research to advance the prevention and treatment of diseases that threaten people and communities around the world - including cancer, cardio-metabolic diseases, emerging animal diseases, Alzheimer's disease and infectious diseases including HIV and Ebola. For more information, visit http://www.merck.com and connect with us on Twitter, Facebook, YouTube and LinkedIn.
Forward-Looking Statement of Merck & Co., Inc., Kenilworth, N.J., USA
This news release of The StayWell Company, a subsidiary of Merck & Co., Inc., Kenilworth, N.J., USA (the "company") includes "forward-looking statements" within the meaning of the safe harbor provisions of the U.S. Private Securities Litigation Reform Act of 1995. These statements are based upon the current beliefs and expectations of the company's management and are subject to significant risks and uncertainties. If underlying assumptions prove inaccurate or risks or uncertainties materialize, actual results may differ materially from those set forth in the forward-looking statements.
Risks and uncertainties include but are not limited to, general industry conditions and competition; general economic factors, including interest rate and currency exchange rate fluctuations; the impact of pharmaceutical industry regulation and health care legislation in the United States and internationally; global trends toward health care cost containment; technological advances, new products and patents attained by competitors; challenges inherent in new product development, including obtaining regulatory approval; the company's ability to accurately predict future market conditions; manufacturing difficulties or delays; financial instability of international economies and sovereign risk; dependence on the effectiveness of the company's patents and other protections for innovative products; and the exposure to litigation, including patent litigation, and/or regulatory actions.
The company undertakes no obligation to publicly update any forward-looking statement, whether as a result of new information, future events or otherwise. Additional factors that could cause results to differ materially from those described in the forward-looking statements can be found in the company's 2016 Annual Report on Form 10-K and the company's other filings with the Securities and Exchange Commission (SEC) available at the SEC's Internet site (http://www.sec.gov).
Media Contact:
Barbara Tabor, APR / tabor PR for StayWell / 651-450-1342 / Barbara(at)taborPR(dot)com